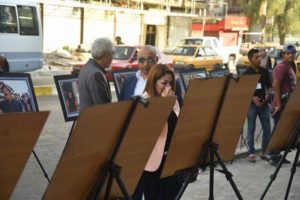 As some countries across the Middle East and North Africa attempt to come to terms with changes in regimes, and others continue their struggles for peace and justice, memory and memorialization have gained social and political significance in the region. They have become important mechanisms to honor victims, rebuild communities divided by conflict, document gross human rights violations and engage citizens in issues of human rights, peace and justice.
Since its founding in 2011, the MENA Sites of Conscience Network has come together to address key questions, such as:
What are the mechanisms that societies need to come to terms with the past?
How can a society that was entrenched in a culture of silence and repression rebuild relations and promote trust among citizens through civic engagement and dialogue?
How can memory and memorialization counter revisionist narratives and promote a culture that is based on truth and justice?
While the answers to these questions vary by country, the MENA Sites of Conscience Network comes together with a common goal of preserving memory, making it accessible to current and future generations, and using the lessons of the past to build a present and future that protects human dignity and freedom.
For more information, or to become involved, please contact Justine Di Mayo, Regional Manager for MENA, Europe and Eastern Europe.