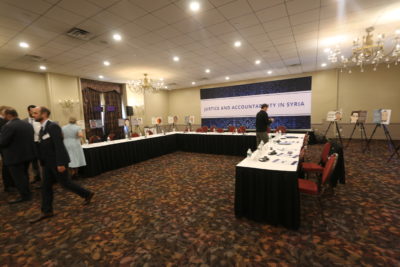 An independent, Syrian human rights organization, the Syrian Network for Human Rights (SNHR) was established in June 2011. The SNHR works on documenting human rights violations in Syria and has been a key source of information for the Office of the UN High Commissioner for Human Rights throughout their analyses on the toll of casualties in Syria.
Additionally, it seeks to defend Syrian human rights at international forums and before international bodies, stressing the need to ensure victims' rights and commemorate them while exposing the perpetrators of violations in preparation for accountability. The SNHR sees this as an important step towards achieving a transitional justice process, where stability can only be realized through justice.
The Network also works on introducing the Syrian society to their civil and political rights and it looks forward to seeing Syria as a national modern state with an effective civil society where all people are equal in rights and duties.
Syrian Network for Human Rights (Syria)
Located throughout
Paris,
France