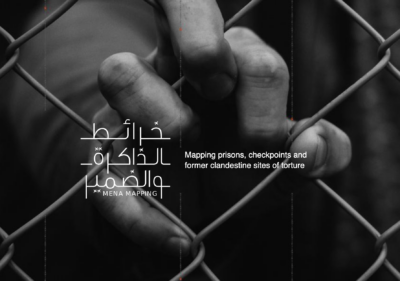 The International Coalition of Sites of Conscience will host its first global webinar of the year, "Confronting Silence: Digital Mapping to Fight Impunity," on March 31, from 9:00 am – 11:00 am EST. The event is open to the public.
Documenting human rights violations is essential for correcting the record, fighting impunity and countering efforts on the part of authoritarian regimes to deny or rewrite history – but ongoing conflict and repressive tactics can make it extremely difficult for communities to carry out this vital work. As one solution, in 2016, 14 members of the MENA Sites of Conscience Network partnered to create the Mena Mapping Project (Damirouna), which virtually documents sites of human rights violations in the region. The interactive digital map documents 152 sites in eight countries, including detention centers, prisons, checkpoints and other sites where violations occurred.
Using the Coalition's MENA Mapping Project as a springboard, this two-hour webinar will explore the use of digital mapping to confront impunity, with panelists from Argentina, Lebanon and the Czech Republic sharing lessons learned from their contexts. A keynote address by Noha Aboueldahab, a nonresident fellow in the Foreign Policy program at Brookings, will address the importance of memorialization initiatives in shining a light on forgotten pasts in order to strengthen solidarity and help recovering societies heal and prosper.
This session will include simultaneous interpretation into English, Spanish, French, and Arabic.