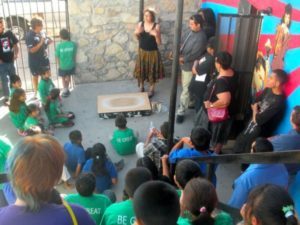 The UTEP Institute of Oral History was established as part of the Department of History in 1972 for the purpose of preserving the history of the region adjacent to the Rio Grande both in the United States and in Mexico.
It is known internationally for its collection of almost 2,000 interviews and over 20,000 pages of transcripts. It is currently focused on interviewing asylum seekers trapped in Mexico through the Migrant Protection Protocol as well as their attorneys and advocates. Museo Urbano is a museum without walls that began on the streets of the historic El Segundo Barrio in 2006.
Bringing history to the community through workshops, museum exhibits, publications, and cultural events, Museo Urbano believes that understanding the past helps us understand the present and envision our future. The Borderlands Public History Lab, which combines the work of both the IOH and Museo Urbano, was launched in January 2016, to preserve and promote borderlands and immigration histories while mentoring students to develop professional skills in research, public presentation, and working collaboratively.
University of Texas – Borderlands Public History Lab (USA)
500 West University Avenue
El Paso
Texas
United States