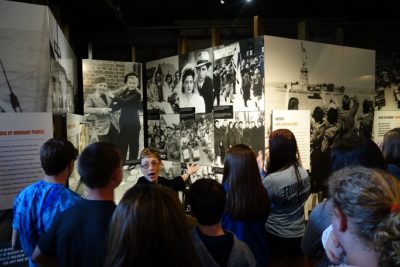 The Holocaust Memorial and Tolerance Center (HMTC) of Nassau County was founded by a group of Holocaust Survivors, elected officials and interfaith clergy, who were deeply committed to honoring the victims and rescuers of the Holocaust.
HMTC has developed into Long Island's leading Holocaust Museum and anti-bias education institute. HMTC's mission is to teach the history of the Holocaust and its lessons through education and community outreach. We teach about the dangers of antisemitism, racism, bullying and all other manifestations of intolerance. We promote resistance to prejudice and advocate respect for every human being.
Every year, thousands of students and adults from across Long Island the region visit HMTC for a museum tour or to participate in an educational program. Participants who take part in one of our educational programs are given the tools they need to be Upstanders who safely and effectively combat antisemitism, bullying and all forms of bias in their schools and communities. HMTC offers in-Center programming, Out-of-Center programming and video conferences for schools and youth groups. Programs for adults include lectures, films, special exhibitions and special events, as well as specialized professional development programs for teachers, nurses, law enforcement personnel and others.
The Holocaust Memorial and Tolerance Center of Nassau County
Welwyn Preserve
100 Crescent Beach Road
Glen Cove
New York
11542
United States