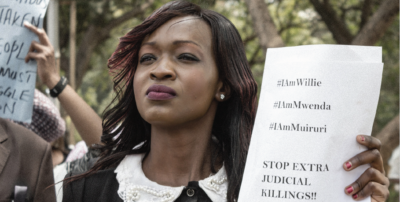 Led by young African human rights activists, the African Network Against Extrajudicial Killings and Enforced Disappearances (ANEKED) campaigns against forced disappearances and summary executions.
​The organization is guided by the belief that every human being on the African continent has the right to life, liberty, security, and work to ensure that the sanctity of these rights is guaranteed for all persons.
ANEKED deems it necessary to make our definite voice heard on issues of extrajudicial killings and enforced disappearances, especially for those victims yet to be accounted for.
​The network brings a proactive approach to dealing with violations in this regard. We are passionate about the existing human rights movement in Africa but seek to change the status quo, in which cases of forced disappearances and summary executions largely go unreported and unprosecuted.
ANEKED exposes injustices related to enforced disappearances and extrajudicial killings and bring much-needed attention to these unreported issues. The network legally challenges governments in Africa in a bid to entrench the concept of the state's obligation to respect the right to life and address human rights violations on the continent. The organization also lobbies governments to include provisions that will build or strengthen institutional capacity and preventative policy measures of the state.
In addition, ANEKED builds strategic partnerships to learn more from the important experiences of fellow human rights defenders. Partnerships are built through formal and informal meetings, workshops, and mentorship programs across and beyond the African continent. Through these, they hope to empower, inspire and connect members and fellow human rights defenders across different regions to unite the younger generation working for change.
The African Network Against Extrajudicial Killings and Enforced Disappearances (ANEKED) – The Gambia
Jimpex Road
Kanifing
Serrekunda
The Gambia