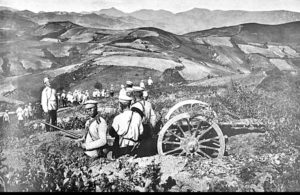 On September 5, 1905 the Portsmouth Peace Treaty was signed at the Portsmouth Naval Shipyard, ending the Russo-Japanese War of 1904-05. President Theodore Roosevelt won the 1906 Nobel Peace Prize for orchestrating the negotiations between the Russians and Japanese using multi-track diplomacy: internationally through back-channel diplomacy; and in Portsmouth, NH through citizen diplomacy.
Roosevelt never came to Portsmouth. Instead, he relied upon the U.S. Navy, the Governor of New Hampshire, and members of the local community to facilitate the Japanese and Russian negotiations. Throughout the proceedings, and most significantly for the ten days when the formal negotiations were deadlocked, the New Hampshire hosts primed the negotiators to continue their deliberations and to reconsider their positions in the interest of both their countries and world peace.
The Portsmouth Peace Treaty Forum offers this example of Citizen Diplomacy as a model for how ordinary people can foster the resolution of international disputes.
Portsmouth Peace Treaty Forum (USA)
82 Court Street
Portsmouth
New Hampshire
03801
United States