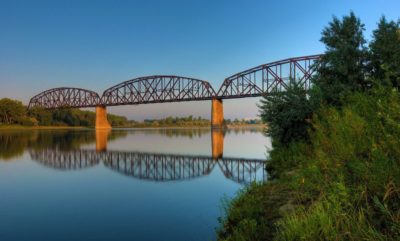 Established by Congress in 2009, the Northern Plains National Heritage Area (NPNHA) promotes the appreciation and protection of natural, historic, and cultural resources along the Missouri River in central North Dakota.
As a Site of Conscience, the 1883 Northern Pacific rail bridge holds profound historical significance in the American landscape. Building the second transcontinental railroad was an audacious undertaking. It nearly bankrupted the country, triggering the Panic of 1873 and war on the Northern Plains. Congress appropriated 40 million acres in government land grants to fund its construction and open the West. But much of that land was sewn up in treaty—not theirs to give—and westward expansion altered forever the lives of the indigenous people who called this place home.
A bridge, by definition, is a means of connection, a crossing place over obstacles that divide us. The NPNHA advocates interpretation of this site as a place of memory to engage conversation, bridge cultures, and foster understanding for the betterment of humanity.
Northern Plains National Heritage Area
1700 River Road North
Bismarck
North Dakora
58503
United States