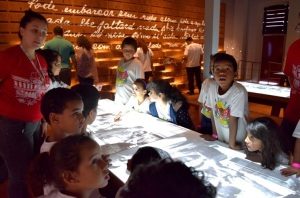 Brazil is a country known worldwide for its cultural diversity. Native people from many nations, such as the Portuguese, Spanish, Flemish, Africans of different origins, Europeans, Asians and Latin American hermanos compose our enormously rich – albeit conflict-ridden – cultural patchwork. In Brazil, a singular province was responsible for bringing more than 2.5 million immigrants by the end of the 19th and beginning of the 20th century: the state of São Paulo. Even today, São Paulo is estimated to be home to more than a million immigrants in an ever-growing flow springing from neighboring and European countries in crisis.
The Immigration Museum of São Paulo – reopened after a 4 year restoration – concentrates not only on the challenge of dealing with contemporary questions surrounding immigration and identity, but also examines its role as a museological institution in a metropolis graded by edges and distances. Among the issues the organization addresses are:
The centrality of the museum's social functions, including how to ensure a transparent structure for the patrimonial decision-making entities (who decides what, and with whom, inside the museum).
Inclusion of the agents of immigration/migration experiences with respect to the museological processes of preservation, research and museological communication, in the broadest possible sense.
How to guarantee that multiple voices and versions are represented.
How to balance the institution's trajectory and the contemporary museological perspectives with the history and experience of immigration and migration in the State of São Paulo, then and now.
Which spaces must be created within the Museum to enable it to act effectively in building and representing identities on the contemporary world?
Whether there are boundaries to the cultural rights to representation.
Museu da Imigração do Estado de São Paulo (Brazil)
Rua Visconde de Parnaíba
Mooca
SP
1316
Brazil