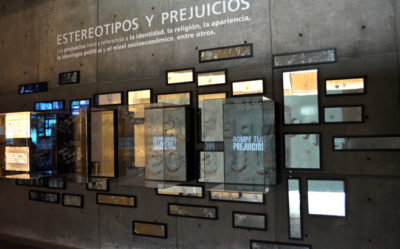 The Museum of Memory and Tolerance was founded in 2010 in Mexico City as a non-profit organization that is dedicated to disseminating the importance of tolerance, non-violence and human rights through its exhibitions, educational programming, business conferences, academic conferences, seminars and colloquiums, among other activities.
The Museum's mission is to raise awareness through historical memory, particularly on the basis of genocides and other crimes. The Museum aims to raise awareness and advocate against indifference, discrimination and violence in order to create responsibility, respect and awareness in each individual, leading to social action.
With this, the Museum seeks to become an institution that is an authority on these issues at the national and international level while giving voice to current social problems in Mexico and the world.
Museo Memoria y Tolerancia (Museum of Memory and Tolerance)- Mexico
Luis Moya 12
Ciudad de México
Delegación Cuauhtémoc
06010
Mexico