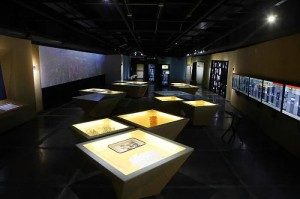 Casa de la Memoria Museum was created as an initiative of the Municipal Unit for Victim Attention and Reparation of Medellin, Colombia, in order to contribute to the comprehension and overcoming of the armed conflict and the diverse kinds of violence of Medellin, Antioquia and Colombia from different scenarios of open, reflexive and plural dialogue.
We are a space at the heart of the city where memories of the armed conflict have a physical and symbolic place, from which we act for the promotion of a cultural transformation in Colombia. Our memories are alive. We remember in order to contribute to the prevention of future violence. This space is a house for gathering and dialogue to understand what has happened and is still happening in our society – it also offers a chance for us to be hopeful again and create other possible futures without violence.
The Casa de la Memoria Museum projects listed below are included in Medellin's 2016 – 2019 Development Plan:
Participatory construction of territorial memories:
This project aims at reconstructing memories from the different territories. It looks at the causes, actors and effects of the conflict on society at large. This is a necessary step to advance in the peace-building process.
 Memory Pedagogy for peace-building:
With this project we look to contribute to the strengthening of a culture of peace and coexistence through pedagogical strategies and sensitization with different audiences.
Active citizenry for post-agreement – Peace agents:
This project aims at encouraging citizenry to reflect on the responsibility we have as a society and the challenges of peace-building.
Institutional strengthening of Casa de la Memoria Museum:
The institutional strengthening of Casa de la Memoria Museum aims to integrally improve the physical, human and organizational resources of the organization in order to promote conditions for the development of internal processes.
Museo Casa de la Memoria (Colombia)
Calle 51 #36-66,
Medellín
Antioquia
Colombia