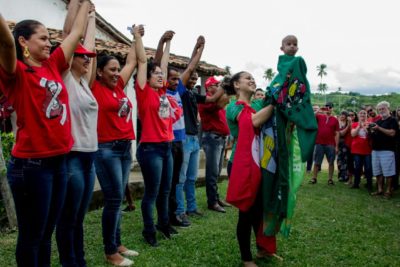 Memorial das Ligas e Lutas Camponesas (Memorial of Small Farmers Leagues and Struggles), an NGO is headquartered in the community of Barra de Antas, in the municipality of Sapé, Paraíba, Brazil. Housed at the former home of Elizabeth and João Pedro Teixeira, leaders of Small Farmers Leagues who were persecuted and had their stories cut short by the Brazilian military dictatorship.
This museum was born from the commitment of a collective formed by rural workers, with the collaboration of pastoral agents, militants of popular social movements linked to agriculture, of professors and students linked to the Federal University of Paraíba and other professionals committed to the small farming cause and the preservation of its memory.
It seeks to educate, advocate and raise awareness for the Small Farmers League. They work with the land, to memorialize the histories of agricultural struggles and of its people, as well as developing solidarity with the small farming causes. It is also concerned with practical agricultural work training and searches for alliances with groups involved with research and studies that prioritize contextualized small farmers agricultural knowledge and practices. Memorial das Ligas e Lutas Camponesas' work is practical, with material results and impacts for the communities they serve.
Memorial da Lutas e Ligas Camponesas- Brazil
Barra de Antas, Sapé,
Paraíba
Brazil