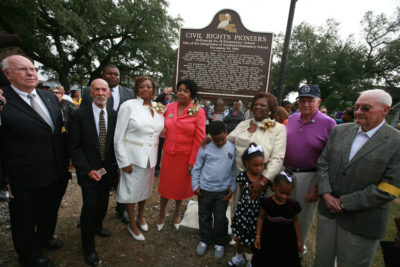 On May 17, 1954, the U.S. Supreme Court ruled in the case of Brown vs. the Board of Education that racial segregation in the public schools was unconstitutional. In 1960, two other little girls [Gail Etienne, Tessie Prevost] and Leona Tate became the first black pupils to attend the all-white McDonogh #19 Elementary School in the Ninth Ward, escorted by U.S Federal Marshals.
In January 2009, the United States inaugurated its first African American president, creating a powerful symbol of progress in the long struggle for African American equality. A few months after this event, on March 25, 2009, Leona Tate and a group of dedicated community workers formed the Leona Tate Foundation for Change, Inc. to promote and enhance racial equality through various avenues of education, to empower and enrich our communities from a spiritual, multicultural, economical, historical and social perspective.
Since 2009, the organization has delivered several programs for underserved youth and families. The Foundation currently operates the Lower Ninth Ward Living Museum and plans to expand by creating the New Orleans Civil Rights Museum into the McDonogh #19 school building.
Leona Tate Foundation for Change (USA)
P.O. Box 872337
New Orleans
LA
70187
United States