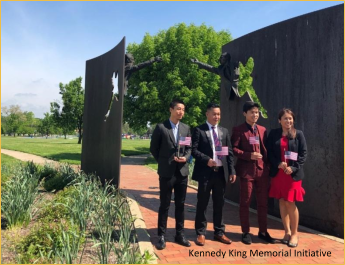 The Kennedy King Memorial Initiative builds on the historical events of April 4, 1968, to raise awareness, provoke thought and inspire action to eliminate division and injustice.
KKMI shepherds and stewards the legacies of Dr. Martin Luther King, Jr. and Robert F. Kennedy by holding the values of equity, inclusion, justice, and peace, and opens its doors to organizations seeking to engage in conversations that address those values. The violent deaths of King and Kennedy call for candid and courageous conversations on how individuals, families, and communities can address the scourge of division and injustice that wounds civil society.
KKMI offers a space for organizations undertaking difficult conversations around race, equity, social justice, and/or community building. KKMI also educates youth and the public at large about the teachings of King and Kennedy and empowers individuals of all ages to address issues of equity, inclusion, justice, and peace.
Kennedy King Memorial Initiative
601 East 17th Street
Indianapolis
IN
46204
United States