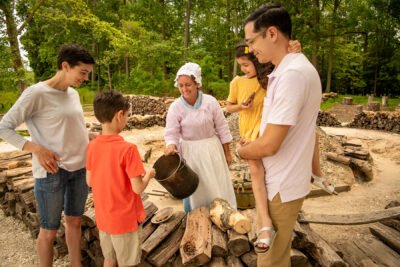 The Jamestown-Yorktown Foundation, an educational agency of the Commonwealth of Virginia accredited by the American Alliance of Museums, administers Jamestown Settlement and the American Revolution Museum at Yorktown. 
The agency's mission is to foster an awareness and understanding of the early history, settlement and development of the United States through the convergence of American Indian, European and African cultures and the enduring legacies bequeathed to the nation.
Jamestown Settlement, a museum of 17th-century Virginia history, explores America's first permanent English colony and the convergence of Powhatan Indian, English and West Central African cultures through gallery exhibits and living history in re-created settings.
The American Revolution Museum at Yorktown tells the story of the nation's founding, from the twilight of the colonial period to the dawn of the Constitution and beyond. Comprehensive gallery exhibits and living history capture the transformational nature and epic scale of the Revolution and its relevance today.
Jamestown-Yorktown Foundation (USA)
2210 Jamestown Road
Williamsburg
Virginia
23187
United States