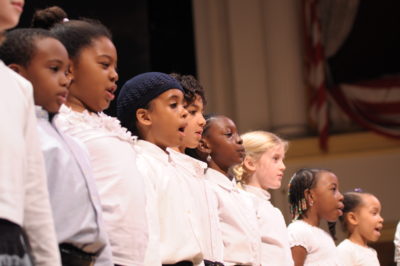 The site of Abraham Lincoln's assassination, Ford's Theatre honors Lincoln's legacy and explores the American experience through theatre and education. A working theatre, historical monument, world-class museum and learning center, Ford's Theatre is the premier destination in Washington, D.C., to explore and celebrate Lincoln's ideals and leadership principles.
Through its inspiring theatrical productions, live historic interpretation and engaging education programs, Ford's Theatre offers visitors the opportunity to immerse themselves in America's past while making meaningful connections to today. As a working theatre, Ford's produces renowned plays, vibrant musicals and newly commissioned works that captivate and entertain while examining political and social issues related to Lincoln's legacy.
With the opening of the Center for Education and Leadership, Ford's Theatre has become a major center for learning, where people of all ages can examine Lincoln's multi-faceted legacy through exhibits, workshops and educational programs.Ford's Theatre is operated through a public-private partnership between the National Park Service and Ford's Theatre Society.
Ford's Theatre (USA)
511 Tenth Street, NW
Washington, DC
20004
United States