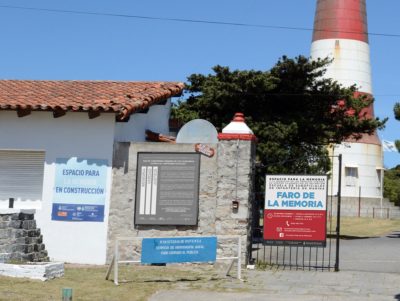 The Faro de la Memoria, or the Lighthouse of Memory, formerly called ESIM, was a clandestine detention center where people were tortured and killed by the armed Argentine forces during the last civic-military dictatorship from 1976. In 2013, the Lighthouse was declared as a National Historic Site and Site of Memory, recovered and sustained by the Lighthouse of Memory Collective with support from the State.
They defend and promote human rights; investigate and document crimes committed by State terrorism in the city of Mar del Plata; commemorate detained, disappeared and murdered people; and raises issues of human rights in terms of memory, truth, and justice as well as other problems facing today's society.
The lighthouse opens daily to students, organizations, institutions to tourism and the general public. They develop visits, educational programs, cultural activities, research and investigation, training and capacity-building for the Documentation Center for Human Rights in the city of Mar del Plata.
Through these programs, Faro de la Memoria contributes to the development of a committed, critical, collective conscience to ensure the protection of the population in a free, fair and sovereign society.
Faro de la Memoria- Argentina
Av. de los Trabajadores 5700
Mar del Plata
Argentina