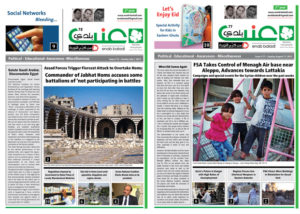 Enab Baladi is an independent Syrian nonprofit media organization. It was established in 2011 by a group of citizen journalists and activists from Daraya, a Syrian town in Damascus suburbs.
The newspaper was aimed at covering news on the ground and conveying the peaceful message of the Syrian people. In January 29, 2012, issue #0 of the weekly newspaper was published marking the beginning of a revolutionary newspaper. The issue was printed and distributed in Daraya secretly due to the Assad regime's crackdown on journalists. Since then, the newspaper has been printed each week on Sundays nonstop, with only one two-week stoppage in August 2012 due to the Daraya Massacre committed by Assad regime forces, when they massacred over 700 civilians and destroyed Enab Baladi's office.
Enab Baladi's mission is to serve a role in educating Syrian citizens through in-depth public interest reporting, including investigative journalism and news reports to elevate important social topics at the local level. Enab Baladi helps advance a democratic society in Syria by producing independent and credible journalism that informs the Syrian public about important issues and gives voice to the voiceless Syrians inside and outside Syria.
Since its establishment during the first year of the Syrian uprising in late 2011, Enab Baladi has focused on promoting the peaceful resistance methods to counter the sectarian and violence narratives of the Syrian regime. Enab Baladi provides the Syrian people with trusted information about events in Syria through its weekly newspaper. Its coverage includes the human rights violations perpetrated by the Syrian regime, as well as the inception of the nascent Syrian civil society, in addition to various news and topics in the fields of politics, economy, and social affairs.