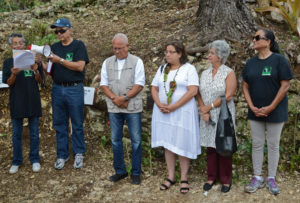 Devoir de Mémoire fights to transform sites of atrocities into sites of memory in Haiti, to demand justice for the crimes committed during the Duvalier dictatorship, and to advocate
for their non-repetition.
In 2020, Devoir de Memoire was awarded the 2020 Edition of the Emilio F. Mignone International Human Rights Award, an award inspired by the life and work of Emilio F. Mignone, one of the main advocates of human rights in Argentina and a founding member of the Centre for Legal and Social Studies.
Awarded by the Argentine Ministry of Foreign Affairs, this award seeks to help the winning organization to raise awareness of the issues on which they work, strengthen the bonds with Argentine civil society organizations, and show appreciation for their commitment to the promotion and defense of human rights in their country of origin.
Devoir de Mémoire (Haiti)
Tulipe Street
Port-au-Prince
Haiti