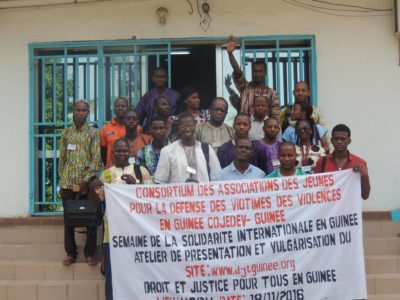 In the aftermath of the events of September 28, 2009, in which 157 people were killed, dozens missing and more than a hundred women raped, young people from Guinea came together to help the victims.
These young people, committed to the promotion of democratic values, distinguished themselves in the victim identification activities alongside international organizations and the United Nations fact-finding mission deployed in Conakry to shed light on the crimes committed at the Conakry stadium.
At the end of the victim identification activities, listening to witnesses and potential suspects, these young people created a database of the facts relating to the massacres committed at the Conakry stadium and worked towards justice in favor of the victims either in Guinea or at the International Criminal Court.
These activists created this Consortium of Youth Associations for the Defense of Victims of Violence in Guinea. In January 2010, after the signing of the Ouagadougou agreements that allowed Guinea to initiate a process of democratic transition, the Consortium was formalized through the adoption of a charter, an internal regulation and the signing of an agreement between the members. They continue to advocate on behalf of the victims, lead memorialization activities and work towards justice.
Consortium des Associations des Jeunes Pour La Defense Des Victimes De Violences En Guinee (COJEDEV)
Route le Prince
Quartier Sonfonia
Conakry Guinea