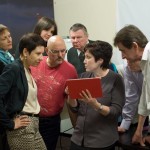 The Belarusian Documentation Centre archives legal documents for the future rehabilitation of Belarusian victims of human rights abuses. The foundation works with human rights defenders and lawyers as well as families of political prisoners and victims.
Its online database, "Remembering (Pomnim)," is a unique source of information for journalists, an effective instrument for lawyers and human rights defenders, and an instrument of hope for hundreds of oppressed people.
The archived documents are used for individual appeals to the Human Rights Committee at the UN, and also serve as a means of defense for citizens at the national level. Finally, the database inspired the investigative-documentary movie, "The Gang," about the disappeared opponents of the Belarusian authorities.
Belarusian Documentation Center
str.Beletskogo, 4-122
Minsk
220117
Belarus