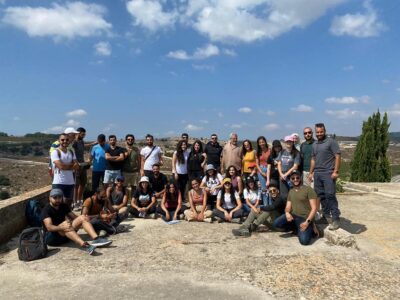 Baladna was founded in 2001 by a group of young Palestinians committed to advancing the social, political, cultural, and economic rights of Arab Palestinian youth in Israel. Frustrated by a lack of outlets through which Arab youth could realize their transformative potential as agents of social and political change, they established Baladna is a non-profit organization dedicated to empowering youth to overcome discrimination and marginalization while advancing their individual and collective rights. Since its establishment, Baladna has touched the lives of tens of thousands of Palestinian Arab youths and remains the only independent youth organization in the Palestinian society in Israel operating at the national level. As a non-partisan organization, Baladna's team and network bring together individuals and groups from different political and social backgrounds, representing Palestinian Arab youth in all their diversity.
At Baladna, we envision a future free of discrimination and asymmetrical power relations, in which all
people enjoy equality, dignity, and justice regardless of race, ethnicity, nationality, or gender. We believe that youths are the key to this future. Thus, it is our mission to empower Palestinian Arab youths to fulfill this role by placing them at the center of social action, equipping them with the skills and values to take the lead in community advancement. Accordingly, Baladna seeks to build youth capacities in networking, grassroots activism, critical thinking, community organizing, and advocacy while strengthening their understanding and application of principles of equality, democracy, social solidarity, and human rights. Baladna recognizes that uneven power relations cannot be overcome without transforming both societal norms and structural inequality. Baladna, therefore, seeks to instill in Palestinian Arab youth a deeper understanding of the societal and political conditions that have given rise to their marginalization, placing their day-to-day challenges within a larger socio-political context. By organizing youth around their needs and priorities, building their skills and knowledge, and enabling spaces for civic engagement, Baladna ensures the meaningful engagement of youth, enabling them to overcome decades of marginalization and inequality. Far from promoting youth engagement as isolated from wider movements to promote equality, democracy, and human rights, Baladna sees youth as a fundamental component of such movements and aims to empower them to play a more active role in them.
Baladna – Association for Arab Youth
P.O. Box 99604
Haifa
31996
Israel