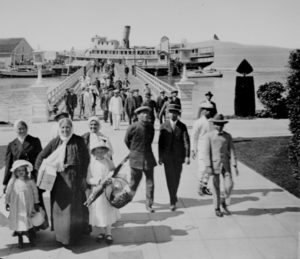 Most Americans know the story of Ellis Island, where immigrants crossing the Atlantic Ocean were processed. But the story of its West Coast counterpart, the Angel Island Immigration Station, is little known. Located in the middle of San Francisco Bay, the island processed hundreds of thousands of immigrants from 1910 to 1940.
Due to the laws restricting immigration from Asia, many immigrants at Angel Island were detained for weeks, months, or even years. In 1970, the rediscovery of Chinese poetry carved by detainees into the barracks walls saved the site from destruction and led to renewed interest in the Angel Island Immigration Station and the formation of the foundation.
The Angel Island Immigration Station Foundation (AIISF) is the nonprofit partner of California State Parks and the National Park Service dedicated to preserving the Immigration Station, and educating the public about the complex story and rich cultural heritage of Pacific Coast immigrants and their descendants.
Angel Island Immigration Station (USA)
VHCF+3C Tiburon Belvedere
Tiburon
CA
94920
United States