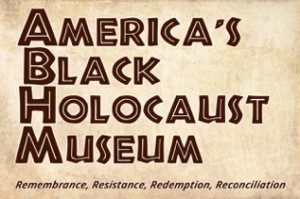 America's Black Holocaust Museum (ABHM) was founded in Milwaukee, Wisconsin in 1984 by Dr. James Cameron, who survived a lynching at age 16. It is the world's only museum to memorialize the 500-year-long story of the holocaust endured and resisted by enslaved Africans and their descendants in America.
When funding challenges closed its building in 2008, ABHM reopened as a virtual museum. Thousands of people from over 200 countries visit www.abhmuseum.org each month. Regionally, hundreds more participate in ABHM's face-to-face programs, including film series, speakers, and dialogues for racial repair and reconciliation. In late fall 2018, ABHM is returning to the footprint of its original museum in a brand new building. ABHM will now have both a physical and virtual presence. To learn more, contact info@abhmuseum.org.
America's Black Holocaust Museum (USA)
401 W. North Ave.
Milwaukee
WI
United States