[vc_row][vc_column][vc_column_text]Marked annually on March 8, International Women's Day is one of the most important days of the year to celebrate women's achievements that otherwise would go unnoticed. That is why, the International Coalition of Sites of Conscience launched (Extra)Ordinary Women, a global campaign to shine light on ordinary women whose work within their communities is extraordinary, and yet, not widely visible or lauded. [/vc_column_text][vc_empty_space][vc_column_text]Association des Victimes, Parents et Amis du 28 Septembre 2009 (AVIPA), Sites of Conscience member in Guinea, joined the Coalition for this campaign and interviewed Hadjiratou BAH, an (extra)ordinary woman from their community.[/vc_column_text][vc_empty_space][vc_text_separator title="Hadjiratou BAH"][vc_empty_space height="20px"][vc_column_text]
Journalist and Human Rights Activist
[/vc_column_text][vc_empty_space][/vc_column][/vc_row][vc_row][vc_column width="1/3″][vc_single_image image="26698″][/vc_column][vc_column width="1/3″][vc_single_image image="26694″][/vc_column][vc_column width="1/3″][vc_single_image image="26693″][/vc_column][/vc_row][vc_row][vc_column][vc_empty_space][vc_column_text]AVIPA: Please introduce yourself?
Hadjiratou BAH: I am Hadjiratou Bah, a journalist by profession and currently interim president of the Union for the well-being of People with Albinism of Guinea (UBIPAG). I have also been making jewelry and other pearl accessories. I have been living in Conakry since 1987 and I joined UBIPAG in 2020. Still, before that, since 2010, I have been evolving in the structures of Human Rights Defenses, especially those working in the framework of the promotion and protection of the rights of people with albinism.

AVIPA: Thank you. Could you tell us more about the challenges you have faced yourself? What brought you to where you are today?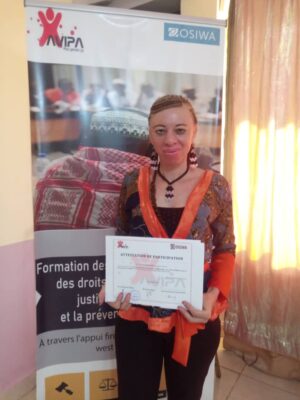 Hadjiratou BAH: As a woman, the challenges I have to face in the community are always problems of social inclusion and stigma because of the difference in my skin color. In the community, whether it is women, people with albinism in general, youth with school problems, it is necessary to work towards respect for everyone's rights, social inclusion, women's empowerment. What we do at the level of the NGO is to have a general assembly. Hence, the person or people with albinism come with their parents not affected by albinism because the stigma is not only towards those with albinism. It is also the parents, especially the mothers, who give birth to these children. They are pointed out and stigmatized. Others even to this day continue to be repudiated in their homes for having given birth to a child with albinism or segregated in his home because of his skin color.

AVIPA: What would you say was the most valuable resource of all? Or, in other words, what is it in particular that you would tell women in your local community need?
Hadjiratou BAH: As part of empowerment, we also do activities in common with other NGOs defending the rights of people with albinism. In 2019, we had the first edition of a beauty pageant, miss and master albinos. Through this project, we wanted to highlight the potential of people with albinism in the field of fashion and culture. This is because many were interested in these areas but did not have the opportunity to embrace this sector that they loved so much. We had an audition that a management institution conducted. Unfortunately, with COVID, we could not do the second edition, but we plan to do it this year.
As part of that project, we also have set up an event agency ALBI EVENT ACCUEIL. All the girls under the agency participate in various events like weddings and workshops. In addition, we focus on childhood issues, including child labor. We treat them at the CENAG center, which is our NGO with 33 personalities of albinism that help children who were on the streets exploited for begging purposes.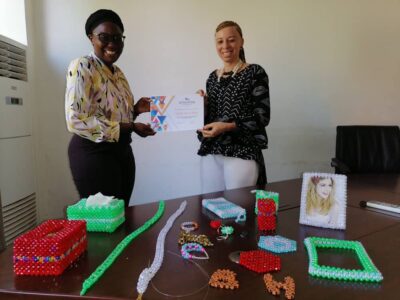 We have so many ongoing projects within our NGO, and currently, we are looking to bring a cancer specialist and his assistant for dermatological consultations and also treatment of Keratosis. This will help in the removal of some tumors with a portable laser. It will really help people with albinism. Also, we think about resuming the second edition of Albi Beauty this year, which was canceled because of COVID. Plus, with the festivities of March 08, we created an event with 50 women with albinism for free gynecological consultations and the distribution of Kits, and we also organized a fundraiser.
AVIPA: What are the needs of your community, especially those of women?

Hadjiratou BAH: Stigma and social prejudices still exist, but they are less than in previous years. Today, albinism is taught more in biology classrooms, so children understand that they are not aliens but full-fledged human beings like the rest. It's just a genetic problem. As an NGO, we continue raising awareness for a change of look towards people with albinism. As mentioned before, we are currently looking for ways to bring an oncologist and his assistant to Guinea.
AVIPA: What advice would you offer to other women out there trying to improve their communities?
Hadjiratou BAH: This March 08, there was fundraising in favor of people with albinism in partnership with other NGOs working in this field. I plan to train other women and empower them by what will allow them to have another source of income. I have to say this to other women to have confidence in themselves and continue getting trained. It is never too late to do well. They should not devalue themselves. They can move forward if they focus on their goals and give themselves the means to achieve them. Having means does not necessarily imply having money. It is about first setting up ideas on board after the help will arrive by reaching out to a company or sharing the project with a partner to achieve it.
On March 08,  and throughout the month, it is necessary to do the retrospective on everything done in favor of women and the many challenges, such as their participation in decision-making bodies, their access to basic social services, etc. We also have to think about women's protection because, despite many laws that exist there, there is still a lot to be done, especially in the protection in terms of gender-based violence and everything that follows.
Thank you very much.[/vc_column_text][/vc_column][/vc_row]