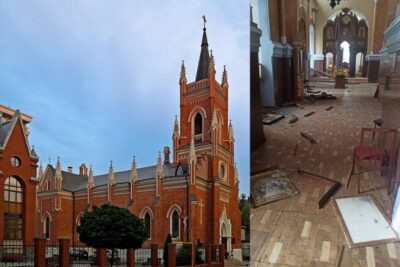 In solidarity with our Ukrainian members, the International Coalition of Sites of Conscience strongly urges UNESCO to move its upcoming World Heritage Committee session – currently scheduled to be held in June in Kazan, Russia – to another country, given Russia's unlawful and inhumane invasion of Ukraine.
Sites of Conscience know all too well that heritage is inseparable from human rights. Our members – including those recognized as World Heritage Sites – remind us that atrocities carried out against people often go hand in hand with the destruction of tangible and intangible culture and heritage. This was the case in the 1990s when
Serb and Croat forces destroyed hundreds of mosques in their effort to eradicate Muslims from the region, and again in 2001, when the Taliban destroyed the Bamiyan Buddhas as part of a larger campaign to destroy the Hazara people, an ethnic minority for whom the statues were of irreplaceable value.
The Russian invasion has already destroyed or damaged dozens of museums, cathedrals and other heritage sites in Ukraine. Eliminating evidence of Ukrainian culture and history appears to be central to Russia's larger mission – yet it is a war crime according to the Hague Convention of 1954, which prohibits targeting historic
monuments and cultural heritage sites. For Russia to host the World Heritage Committee session while also waging a war of aggression seems a profound contradiction, and one that risks undermining UNESCO's recent thoughtful exploration of the role that sites of memory, including sites of recent conflict, can play in forging cohesive societies and peaceful futures.
We call on UNESCO, the 21 states that currently make up the World Heritage Committee, and all members of the heritage sector to support the immediate relocation of the Committee's upcoming session from Russia. To continue as planned is an affront not only to Ukrainians who are courageously defending their very existence, but to all those whose heritage and humanity have been targeted by forces perpetrating crimes of aggression throughout history.
The International Coalition of Sites of Conscience