"What this project has provided for me is the invaluable experience of more spaciousness in my heart and mind. This liberating effect has convinced me that a very robust, powerful way we can change our relationship to physical space and create healing in these physical spaces is by first creating the space within us to heal, understand more fully and accurately, and then project that experience outward."

-Alex Ponca Stock
Whether based at a historic site, a history museum or in a virtual setting, Sites of Conscience share a common mission: to confront painful histories with honesty and transparency so that communities can take action to create more diverse and equitable futures.
To support our worldwide movement for memory, the International Coalition of Sites of Conscience often works directly with communities, facilitating trainings and hosting programs and events that provide spaces for historical reflection and reconsideration.
To this end, with the support of the National Endowment for the Arts and a major grant from a local anonymous donor, the Coalition recently concluded In Dialogue: A Community-Centered Public Art Project Reflecting Tulsa's Inter-tribal Identity in Mvskoke Territory, which aimed to help the city reimagine new artistic representations of its diverse Native community.
Led by Linda Norris, Senior Specialist in Methodology and Practice, and Local Coordinator Brenda Pipestem, the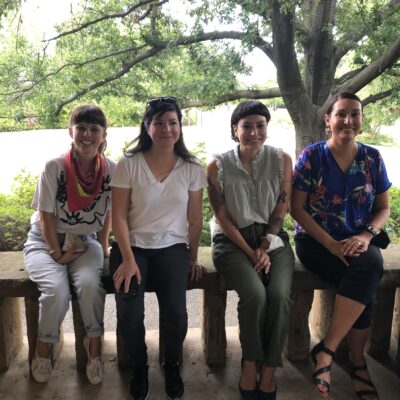 project supported four Indigenous, Tulsa-based artists – June Carpenter (Osage, Shawnee), Jessica Harjo (Otoe-Missouria, Osage, Pawnee, Sac & Fox), Elisa Harkins (Cherokee and Muscogee), and Alex Ponca Stock (Osage) – who each created a prototype for a public art project in Tulsa that re-centers contemporary experiences and memories of Native peoples in Tulsa, Mvskoke Territory, against the backdrop of history.
"Reflecting on my experience this past year with International Sites of Conscience I keep going back to the concept of spaciousness," says one of the artists, Alex Ponca Stock. "This is an exceptional time in human history of overwhelming stimulation, institutional deconstruction and social reckoning. The constant storm of information can create a sense of mental, emotional and spiritual claustrophobia. Having the opportunity to pause and reflect deeply through the act of research and interaction with the community had an amazing effect of making space, space to consider and understand the moment we are experiencing, and most importantly, to consider this moment in the context of the complex and ancient history of this land."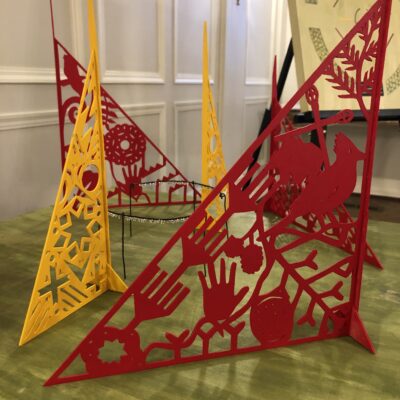 The four public art prototypes were informed by three virtual community conversations facilitated by the Coalition in July that provided opportunities for more than 60 indigenous community members to discuss lived experiences in the region, thoughts and perceptions about memorialization, physical places of importance or personal preferences in regard to connecting with the land, and ideas about raising the visibility of Native peoples in this community.
In addition, the Coalition collaborated with the Cultural Preservation Office of the Muskogee Creek, and the Gilcrease Museum to facilitate a two-day in-person workshop with the artists in which they explored the history of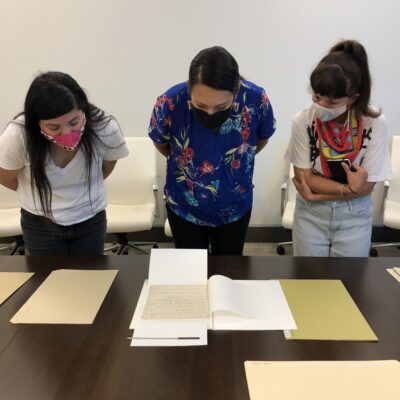 Tulsa and gained access to Native content archival materials in the Gilcrease's Helmerich Center for American Research.
Like many visitors to Sites of Conscience, the artists noted how bringing history, art and place together in this way had a tremendously powerful healing effect.
"Having that room to learn and relearn, then process this history and experience through art has been like gently shrugging off some of the confines of overwhelming trauma, need and misinformation," says Stock. "It has been a beautiful, reciprocal interaction between the material and the esoteric; inner-space being altered and allowing for that change in the outer-space."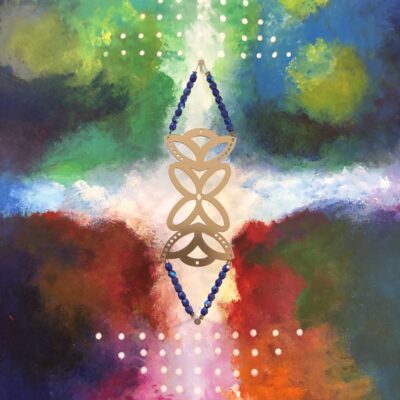 On October 28th, the four artists shared their designs at a public exhibition attended by over 100 people at the Mansion at Woodward Park in Tulsa. For more information on how you can support the Coalition's work, please contact the Coalition's Director of Development, Gina Lentine, at glentine@sitesofconscience.org.
For more photos, please visit here.