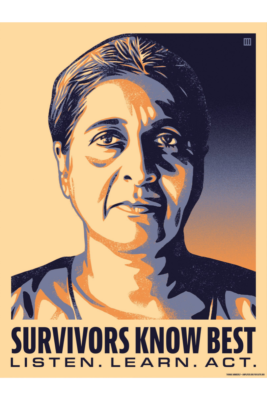 In November 2021, the Global Initiative for Justice, Truth and Reconciliation (GIJTR) and Amplifier, a nonprofit design lab that brings together artists and activists, launched an advocacy campaign to assist communities around the world that are in or emerging from conflict by fostering reconciliation through the stories of survivors.
With help from three artists, Camila Rosa, Thomas Wimberly, and Nurul Yaquin, we are making available 20 free, downloadable images in six languages to foster reconciliation through the stories of survivors. The images are based upon six primary themes – Listening to Survivors; Truth and Justice; Peace and Non-Recurrence; Memory and Reconciliation; the Missing and Disappeared; and Women's Rights – and feature fictional people and symbols representing communities from Africa, Asia, Latin America, and the Middle East.
They can be used as posters, projections, buttons, stickers – anything in the name of truth, justice and reconciliation. Please feel free to share them widely.
To access the posters and Distribution Toolkit, please click here.