Global Initiative for Justice, Truth and Reconciliation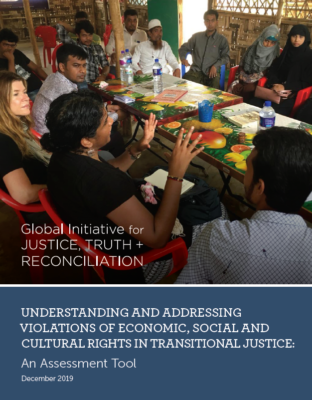 In countries transitioning from conflict or authoritarian rule, it is crucial that all members of society – especially women and minorities – are included in the envisioning and building a new future. While many transitional justice models sideline these voices, the Coalition's Global Initiative for Justice, Truth and Reconciliation (GIJTR) does the opposite, prioritizing the stories of marginalized communities, knowing that only when these populations are fully engaged can cycles of violence be broken.
This assessment tool is designed for civil society organizations (CSOs) and activists who are working to address the root causes and socio-economic of conflict in post-conflict transitional justice processes at the local and national levels. It provides users with the tools they need to conduct reliable and comprehensive research into the economic, social and cultural rights (ESCR) violations that contributed to and occurred during conflict and help them to work alongside and between local communities and national governments to make informed decisions about what transitional justice mechanisms might provide the most appropriate redress for those violations.