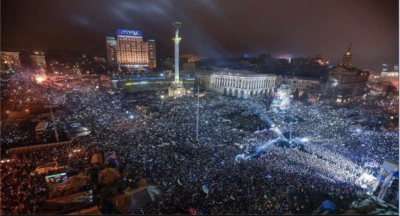 Responding to social upheavals and ongoing human rights abuses in "real time" is a challenging but critical component of what Sites of Conscience do. The Maidan Museum (formally known as the National Memorial to the Heroes of the Heavenly Hundred and Revolution of Dignity Museum) was a direct outcome of Euromaidan – the large-scale student demonstrations that erupted in Ukraine in 2013 to protest the government's increased ties with Russia. It is the only national museum devoted to collecting, exhibiting, interpreting and disseminating the stories of the struggles by Ukrainians for national independence, human rights, individual freedoms and dignity – as well as memorializing the 107 protestors who were killed.
Since its inception, the museum has collected oral histories and held exhibitions at a temporary location, but earlier this year the museum held a design competition for a permanent site to house its collection and support its programs. Below is an interview with Ihor Poshyvailo, Director General of Maidan Museum, discussing the site's development and his hopes for its future.
What are the main objectives for the new museum and memorial design? 
The main objective for the Maidan Memorial and Museum design was to develop a form and space in the most authentic site possible to honor the memory and meaning of the Maidan. Luckily, we were able to accomplish

this. Located in a central location – indeed on the actual site of many of the Revolution of Dignity events – the museum and memorial will be a place to mourn the protestors who were killed, as well as a place to remember other victims of the events. It will also be a site to reflect on the conflicted history of Ukraine, which will hopefully aid people in confronting and overcoming the trauma that lies within.
The chosen design – by Ukrainian architects MiStudio (the Memorial) and German architects Kleihues + Kleihues Gesellschaft von Architekten (the Museum) – will be a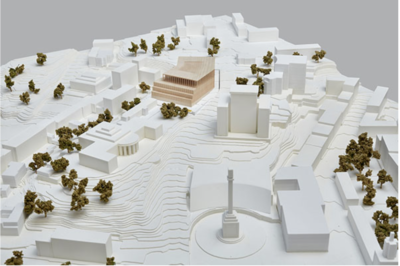 contemporary and stimulating complex that I believe will emerge as a symbol in the heart of Kyiv – having the potential to become an icon for the entire city and even for Ukraine as a whole. If all goes well, it will be a place of living history and memory, a platform for civil society, social dialogue and reconciliation. It should not freeze "hot history" and emotions, but remain very much "alive" – a vivid and active reminder of the most ambitious peaceful protests in modern Europe.
Public participation and input has been a key part of Maidan Museum since the beginning. How did you ensure community consultation during the design competition and process?
Like the protests themselves, the Maidan Museum was from its beginning a manifestation of social responsibility. Founded by a small group of museum and civic activists during the protests, the museum grew and was strongly supported by families of the victims, various social groups and the government. Likewise, the concept of this new institution was crafted with broad engagement from various stakeholders.
From our beginnings, we prioritized dialogue within the site. Just after the protests, we launched a series of interactive exhibitions with "visitors' voices" elements, discussions, educational programs and consultations in order to collect as many ideas as we could for the future memorial and museum. We also consulted with a number of American museum professionals including Elaine Heumann Gurian and the Coalition's own Linda Norris, who provided us with effective strategies to approach conflicted history and create a "museum of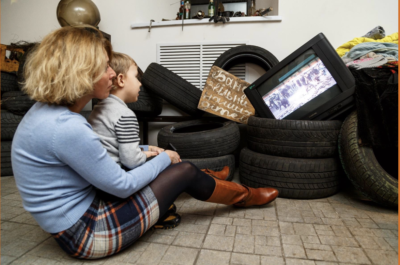 dialogue." The international architectural competitions for the memorial and museum included a series of debates and discussions, engaged hundreds of experts, consultants, representatives of civic sector and families of victims. The winning projects for the complex were exhibited in physical and virtual spaces and highly debated. We also organized a series of presentations in various groups to discuss every detail of the future institution and to hear as many communities' responses as possible.
Art has long played a key role at Maidan. How do the new designs reflect that?
Art played a crucial role during the protests in Ukraine in 2013-2014 as a form of protest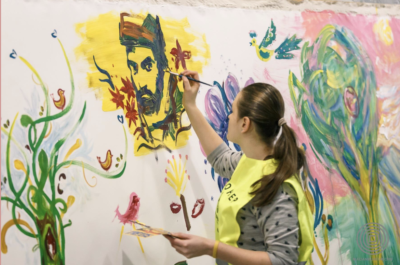 that prioritized participation and non-violence. Art, of course, is also a great way to communicate with a global audience and provide therapeutic outlets for survivors, their families and society more generally.
In its relatively short history, Maidan Museum has used art to communicate the identity of the movement, express its democratic values and hopes, build community and solidarity, as well as honor activists and victims. The museum now has a considerable collection of art items and creative objects, including the Yolka, now a sort of revolutionary landmark and symbol. It is a Christmas tree installation in essence, but also a huge and unique art space that incorporates hundreds of banners, slogans, drawings, painted flags and other artworks. The new museum space is designed to exhibit this almost 100ft metal construction, as well as other iconic objects from our collection, including a sculpture of the French street artist Roti, which will be exhibited in an open, public space.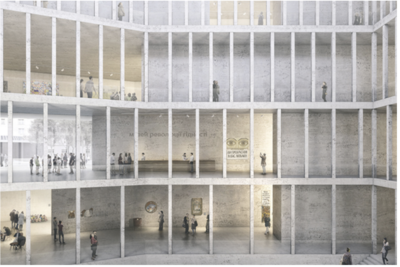 The museum's façades will also have niches which will remind visitors of the spontaneous monuments to victims by the people that appeared during the revolution. Finally, the museum's exhibition space will be very flexible, allowing its curators to present art and create new expressions as dynamically and frequently as possible.
While Maidan Memorial and Museum have the support of the current Ukrainian government, you certainly have witnessed firsthand how quickly human rights can be threatened. What advice do you have for others hoping to preserve human rights struggles in repressive environments?
It is true that the Maidan Memorial and Museum initiative was supported, with strong public pressure, by the Ukrainian government from its very beginnings and the site and the financing were allocated to our institution by the state. Further, the international competition was successfully organized and provided under the auspices of Ukraine's President and Minister of Culture, and the memorial and museum's construction involves close coordination with almost 50 stakeholders, including the Ukrainian Parliament, the Presidential Administration and Cabinet of Ministers, as well as various expert groups, NGOs and families of the victims. At the moment we have not encountered much political resistance, but of course we know this could change next year after the presidential and parliamentary elections as there is no strong succession culture in Ukraine.
Thus our strategies are to make our project as visible as possible – our goal is to make irreversible steps forward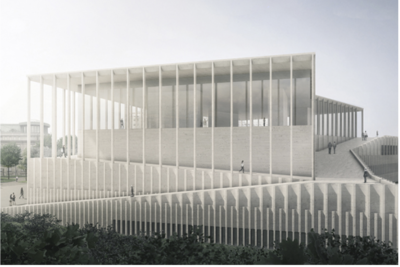 in what may be a brief "window of opportunity." We hope to develop relevant programs that will guide society through this turbulent situation, raise awareness of the plight of civil protestors, engage various communities in the Memorial and Museum's development, and to build trust among society so that we can be a strong force for democracy in the face of any future repressive environments.
Our advice for others is to stay enthusiastic, professional, honest, transparent, relevant and dedicated to the mission and values of Sites of Conscience, which do not impose curatorial authority but engage the public; which focus not only on the past, but on the future; which create friendly and open platforms for dialogue, reconciliation and common reflection on history to gain a better understanding of the present; and which address traumatic experiences and use them toward common, peaceful action.