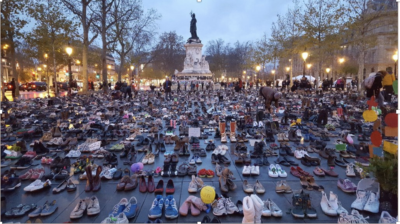 Human activity has begun to take a significant toll on the earth's weather patterns, increasing temperatures and raising sea levels. This, in turn, has led to droughts, flooding and the malnourishment of millions worldwide. Despite this, the world's most powerful leaders are rolling back efforts to curb climate change.
To help Sites of Conscience tackle this issue with their visitors, the Coalition is making its Front Page Dialogue on the Paris Agreement, normally visible only to members, available to all. The model offers thoughts on how to engage visitors in discussions surrounding climate change and human rights.
You can access it here.
Front Page Dialogues are designed to serve as models to help our members generate conversations about relevant issues as they emerge. As rapid response tools, they are intended to help Sites of Conscience respond to community needs in a timely manner, providing a guide for engaging visitors in dialogue and action on pressing events in real time.
To view all our Front Page Dialogues, you must be a member.