By Long Khet
Founder and Executive Director of the Peace Institute of Cambodia-Youth for Peace
Cambodia's history is marked by decades
of civil war and post-war recovery. Specifically, between April 1975 and January 1979, the country suffered under the rule of the communist Khmer Rouge (KR) regime. During this time, more than 1.7 million people died from starvation, forced labor, torture, and execution. The immensity of this mass atrocity committed by Khmer Rouge cadres has left Cambodians with deep wounds and psychological trauma. This violent past continues to affect every sphere of people's lives and remains a subject of political controversy and conflict. The legacies of the conflict include dehumanization, deep distrust, stereotypes, and divergent collective memories.
These legacies have unique consequences for younger generations. The post-war generation receives little formal education on the recent past. They must rely on their parents' accounts, which often transmit trauma, uncertain identities and victimization – when they are shared at all. Often, silence prevails. Consequently, both children of the former Khmer Rouge and children of victim-survivors have limited knowledge about the root causes and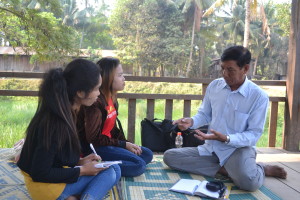 functioning of the KR regime and about their parents' experiences. Youth are often marginalized – with hierarchical social values placing greater value on the knowledge of elders, youth are frequently prevented from civic engagement. At the same time, many youth are socialized into an environment that is marked by structural – and often physical – violence.
Within this context, Youth For Peace (YFP) – a Cambodian Site of Conscience that equips young people with the capacity to develop initiatives for peace and social justice within Cambodian society – recently initiated a program focused on intergenerational dialogue to promote a broader understanding about the history of the Khmer Rouge, to provide a platform for truth-telling, and to involve youth in the reconciliation of victim-survivors' memories.
YFP conducts the program primarily in grassroots communities, selecting and working with a group of about twenty-five to thirty young people. These youth as well as victim-survivors are invited to participate in a range of activities,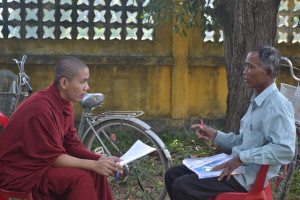 the first being a workshop that educates participants about the history of Democratic Kampuchea and the Khmer Rouge tribunal, reconciliation, and reparation processes. Next, the participants engage in intergenerational dialogues at local religious centers. These dialogues are not presented as older community members teaching the youth historical facts, but rather as an opportunity for youth to be exposed to the diversity of historical narratives and perceptions among rural Cambodians. Then participants are offered a chance to engage in workshops in which they create artwork based on the dialogues that is later exhibited in the community. Finally, a visit is made to a local mass killing site, which allows participants to have a deeper, more personal experience of the history.
Each of these activities has a profound impact on both the young and older participants, fostering an atmosphere of empathy and understanding that sets the stage for broader social change. By actively listening to the survivors and acknowledging their past suffering, the youth feel a new sense of sympathy and even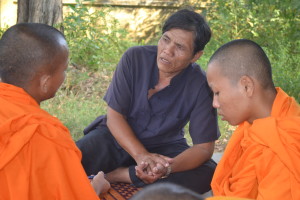 love toward the older generation, and come to praise them for overcoming the struggles in their lives. As one fifteen-year-old participant said, "I really hate the war. Learning about the past is a way to prevent genocide from happening again in my country and in the world too." Victim-survivors also expressed relief when they told their stories to members of the next generation and saw these young listeners respond with care and concern. "It is great that Youth for Peace creates space for young people to learn about Khmer Rouge history from survivors," explained a sixty-one-year-old participant. "It's not only the Extraordinary Chambers in the Courts of Cambodia that can find justice and reconciliation; sharing about the past is a way of reconciliation too."
The concrete impact of sharing survivors' experiences with the post-war generation is that it creates an air of trust and positivity where before there was primarily silence and negativity. Within this setting youth become active agents of social change as both individuals and members of wider networks. For the complete case study, with detailed descriptions of each of the program's activities as well as sample questions to consider in conducting similar programs, please click here.