By Bonney Djuric
Director, Parramatta Female Factory Precinct (PFFP)
and
Lily Hibberd
Artist and Co-Founder of PFFP Memory Project and DECRA ARC Fellow at NIEA/UNSW
A state-controlled child-welfare institute that operated from 1887 to 1974 in New South Wales, Australia, the Parramatta Girls Home is a complex site to behold. While the outside appears stately and bucolic, the inside clearly speaks to its darker side.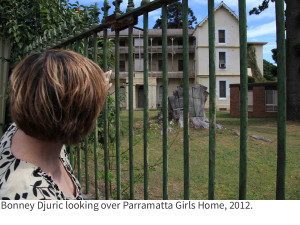 There you find empty dormitories and small isolation cells where upwards of 30,000 girls were kept over the years, many of them enduring physical and sexual abuse along the way.
"All my life I have struggled with feeling worthless, with mental health problems and bad health," Jeannie "Gypsie" Hayes, a former resident, explains. "I have been abused and abused myself, all of which I believe is due to the lack of care experienced as a young person in the care of the state."
The Parragirls, a collective composed of the last survivors of the Parramatta Girls Home, documents the inhumane treatment that Hayes and others experienced as child residents of "the Home." Not only are the Parragirls fighting to preserve the site itself so that visitors may learn about the injustices committed against women and children there, they create innovative programs through their Memory Project that put survivors' narratives front and center.
As part of this objective comes, "Living Traces," a new program which uses different types of texts associated with the Home to give residents a platform to discuss their experiences. In a recent workshop held at the site, survivors were encouraged to look at graffiti and other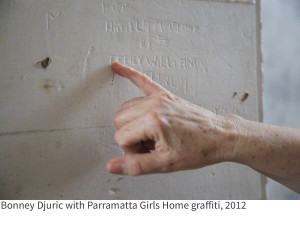 language-based items, such as state welfare records that were kept about the girls, files that until recently were largely inaccessible to survivors. Part of the workshop allowed participants to read what was written about them to contest and correct these often fallacious official records.
"At the stroke of a pen, my life changed forever," wrote participant Jenny McNally. "As children what happened affected our lives in profound ways. Back then we never got the chance to read what was recorded, to correct or dispute it, or to add our own voice. We never knew what was said but we knew those words existed and they have haunted us all our lives. The only way we could express ourselves was to scratch words into the walls or onto our bodies. Now a lifetime later, we revisit those marks, we read what was written about us and we are responding in our own ways to set the record right."
Participants could choose to have their testimonies recorded in video interviews, which will be available as a public archive at the site if it is turned into a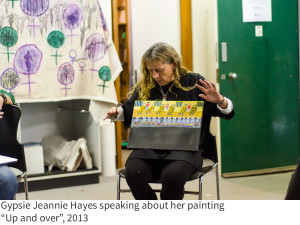 museum and interpretation site as hoped. "For the first time," Hayes notes of the workshop, "I feel that all of what I went through wasn't just for nothing."
For more information visit: pffpmemoryproject.org
Images courtesy of Bonney Djuric and Lily Hibberd