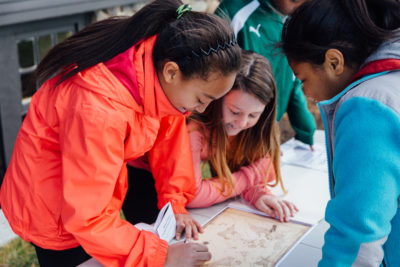 In the early 1900s, Salem, Massachusetts witnessed an influx of immigrants, mostly of Polish and Eastern European descent. Recognizing the need for social services for the new Americans, Caroline O. Emmerton began a Settlement program to support and assist these new immigrants in their transition into American life and culture.
Using Jane Addams' Hull House in Chicago as her model, Emmerton's Settlement program focused on English language skills, vocational training, homemaking, nutrition, well-baby care and early childhood education for the newly arriving immigrants and their children. For new immigrants, enrolling in these classes and programs meant making their way towards a better life in a new community. To accomplish her social service work, Emmerton purchased the House of the Seven Gables, also known as the Turner-Ingersoll Mansion, to generate revenue for her work.
She purchased the property in 1908 and worked with historic preservation architect Joseph Chandler to transform the structure into a prime example of Colonial Revival architecture reflecting the tale outlined in Nathaniel Hawthorne's novel, The House of the Seven Gables. Today, the House is a sustainable historical, architectural and literary site dedicated to continuing the philanthropic "Settlement" tradition of providing educational opportunities to our immigrant population.
Today the primary focus is providing Adult ESL and Citizenship Classes; a summer enrichment program for ESL students in elementary school and a seried of Community Conversations on the topic of immigration and immigration reform.
The House of the Seven Gables (USA)
115 Derby Street
Salem
MA
01970
United States