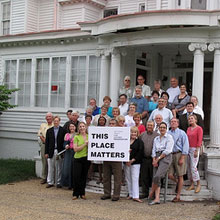 Preservation Virginia is the oldest state-wide historic preservation organization in the United States. Begun in 1889 to save Virginia's historic places, Preservation Virginia is now the state's leading preservation advocate.
The organization works collaboratively with endangered sites like Shockoe Bottom, and the James River view shed, which is currently threatened by the construction of power lines. Its annual endangered sites listings have been instrumental in saving hundreds of places that embody the mission of Sites of Conscience through impactful stories within their communities.
It also owns and operates six historic sites in Virginia: Cape Henry Lighthouse, Historic Jamestown, Bacon's Castle, Patrick Henry's Scotchtown, Smith's Fort Plantation, and the John Marshall House, all of which are working towards including facilitated dialogue tours and programs in their outreach.
Preservation Virginia (USA)
204 West Franklin Street
Richmond
Virginia
United States