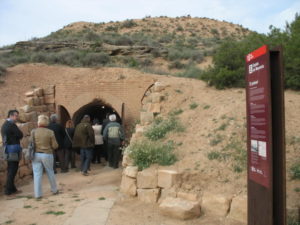 By recovering formerly repressed histories and voices, Memorial Democràtic aims to defend the Catalan citizens' "right to remember." The institution works to research, preserve, and publicize the history of the period 1931-1981, including the democratic struggle against fascism during the Spanish civil war, Franco's regime, the citizens' fight for democracy against the dictatorship, and the transition to democracy.
Memorial Democràtic is a place of commemoration and serves as an information and resource centre for the Catalan government, other public administrations, and the civil society in their policies and initiatives to recover and share historic memories of the fight for democracy.
The institution organizes traveling exhibitions, conferences and debates, and publishes books for teachers and researchers, as well as pedagogical tools on how to engage students in recovering memory. Memorial Democràtic is dedicated to preserving historic sites and provides technical assistance and financial support to historic research and various memory projects. It aims to create a series of museums, sites, and visitor centres where the public can gather a comprehensive understanding of Catalonia's recent history.
Memorial Democràtic de la Generalitat de Catalunya (Spain)
Av. Diagonal, 409 7a
Barcelona
Spain