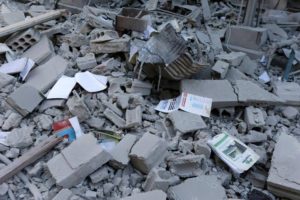 The Damascus Center for Human Rights Studies (DCHRS) is an independent, non-governmental organization established in 2005, located in the Syrian capital of Damascus. Its mission is to foster a spirit of support and respect for the values and standards of human rights in Syria.
DCHRS works on a variety of documentation projects including daily casualty reports, massacre reports, and other human rights violations reports. DCHRS has also been working on advocacy and lobbying in different human rights institutions in order to acknowledge the deteriorating human rights situation in Syria.
Finally, DCHRS opened local offices in Syria in order to document, collect, and observe human rights violations on the ground. After the start of the Syrian war, the Center increased its activities through working, communicating, and coordinating with many members and activists. Thus the center began documenting daily violations against peaceful demonstrators perpetrated by the Syrian regime forces, including extrajudicial killings, massacres, arbitrary detentions, forced disappearances, rape, and torture in prisons.
Damascus Center for Human Rights Studies
1718 M Street NW
Suite 116
Washington DC
20036
America