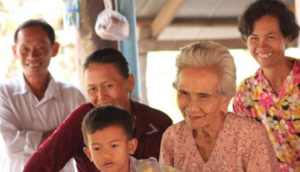 Kdei Karuna – meaning "compassionate action to heal" in Sanskrit –  contributes to sustainable peace efforts by addressing the scars of conflict inflicted over decades of instability and war. For more than ten years, Kdei Karuna Organization (KdK) has established itself as a leading peacebuilding and reconciliation NGO in Cambodia. Through participatory and community-engaged approaches, KdK has implemented truth-telling and memorialization initiatives between a number of groups, including former Khmer Rouge cadres and victims, ethnic minorities, and youth.
Kdei Karuna implements two programs – the Justice and History Outreach (JHO) and the Inter-Ethnic and Cross-Border Dialogue (ICD) programs. The JHO program empowers villagers to take ownership over their healing process through strengthening community relationships, increasing communication on issues from the past, building capacities on conflict resolution and dialogue facilitation, and encouraging the development of locally-driven memory initiatives. The ICD program encourages mutual understanding and inclusive citizenship among diverse elements of society in a way that enhances their ability to address difference in a non-violent manner. To meet these objectives, KdK works with both urban and rural citizens, encouraging university students to form relationships with students of other ASEAN countries, and promoting tolerance via research and awareness-building initiatives.
Kdk's programs utilize creative and non-threatening ways to reflect upon conflicts stemming from the past and upon difference. Their methods combine comprehensive intervention based on local contexts, including Dialogue, Forum Theatre, Oral history and Creative Outreach. KdK's three priority areas of focus are: 1) Supporting education, youth development and lifelong learning; 2) Promoting inter-ethnic relations; and 3) Empowerment of women and combating gender-based violence.
Kdei Karuna (Cambodia)
No. 69 Sothearos
Boulevard Sangkat Tonle Bassac, Khan Chamkarmon
Phnom Penh
Cambodia