Angi Williams, a Communications Associate at the Coalition, recently spoke with Suzanne Pred Bass, Executive Board Member at the Remember the Triangle Fire Coalition, located in New York City, to discuss how the legacy of the Triangle Shirtwaist Factory fire of 1911, which took the lives of 123 women and girls and 23 men, has inspired future movements to protect workers' rights – particularly for vulnerable populations such as immigrants and women.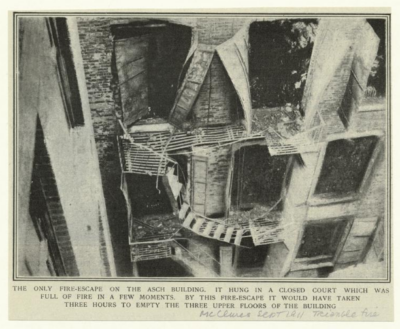 For our global members, can you say a bit about the history and mission of your Site of Conscience?
The Remember the Triangle Fire Coalition was founded by Ruth Sergel in 2008 and is now headed by Mary Anne Trasciatti. It has grown to include 14 board members dedicated to building a Triangle Factory Fire Memorial, educating the public about the fire, and creating meaningful commemorations each year on its anniversary. The memorial, "Reframing the Sky," was designed by Uri Wegman and Richard Joon Yoo and will be completed in 2023. It is a powerful, compelling design that includes a textured steel ribbon evocative of the mourning ribbons that were draped on the building after the tragedy. 
The Memorial starts on the ninth floor
of NYU's Brown Building, near Washington Square Park, where the fire originally took place, and the "ribbon" descends to 12 feet above the ground where the names and ages of the victims are engraved into a panel that will be visible at street level. Testimonies of survivors and witnesses will be etched along the lower edge, and text will be provided to inform the public about the fire and its consequences. In memory of the many Jewish and Italian workers who were killed that day, the text will also be translated into Yiddish and Italian. Please go to trianglefirememorial.com and rememberthetrianglefire.org for vivid images and further descriptions.
The heart of this ongoing work is to present the history of the fire and its 146 victims – mostly young women immigrant workers – as relevant to issues that confront workers today in the United States and around the world. It is by making the story of the Triangle fire known and remembered that we aim to change unsafe, unfair, and discriminatory work situations existing today.
The fire caused the death of 146 garment workers, 123 of whom were women and girls, mostly Italian or Jewish immigrants aged just 14-23. Can you talk about the significance of this? Why are marginalized groups – women, children, and immigrants in particular – vulnerable to such horrific working conditions? And can you talk a bit about how the fire led to legislation, requiring improved factory safety standards and aided the forming of the International Ladies' Garment Workers' Union (ILGWU)? How did those changes come about?
Immigrants struggling to make a life for themselves, without the language and educational skills necessary to protect and guide them, become extremely vulnerable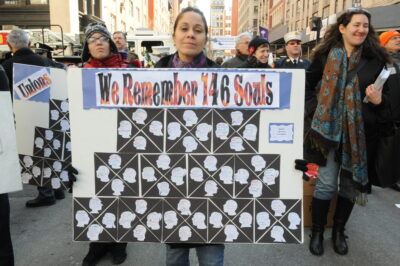 in the workplace. As they struggle to help their families survive, they end up working wherever they can. Many don't have the necessary papers to legally work and therefore are prey to greedy bosses who will exploit them and see them as nothing but tools to make money. Without unions to protect them they are forced to accept low wages, unsafe workplaces, sexual harassment, and unfair conditions over which they have no say.
This is what was happening in 1911 when the fire occurred and is still happening here and around the world. The International Ladies' Garment Workers' Union (ILGWU) had been fighting for the creation of unions since 1900. The union's first major strike – comprised of 20,000 female workers – occurred in 1909, followed by an even larger one in 1910. Led by Clara Lemlich, women sweatshop workers went on strike to protest their unsafe, unfair workplace environments. The strike succeeded in getting many sweatshops to become union shops. Unfortunately, the Triangle Factory owners – Max Blank and Isaac Harris – refused to be unionized. They made promises to workers that were never fulfilled. The Triangle Factory fire galvanized New Yorkers and people across the country as well as in other countries, particularly those from Russia and Italy; countries that claimed the most victims. The cry that was raised led to a new group of labor advocates including Al Smith, Frances Perkins, and Robert Wagner who went on to hold key government positions. They insisted on factory inspections for safety hazards and on creating laws to protect workers such as workmen's compensation and shorter work hours. When you look at a bright red EXIT sign think of the Triangle fire activists. They also fostered and supported the growth of unions and worked to eliminate corrupt Tammany Hall politicians. Frances Perkins, who became the first woman cabinet member as FDR's Secretary of Labor, had witnessed the fire. She famously said, "The New Deal began on March 25, 1911. The day that the Triangle Factory burned."
Sites of Conscience devote much of their resources toward assisting communities in contextualizing their contentious histories. Can you explain what memorialization efforts, such as the Triangle Fire Memorial, do for the collective memory? Why is maintaining a collective memory of historic events and tragedies important?
The Triangle Fire memorial connects us to a transformational event in labor history. It shows us that enormous changes can occur when people are moved and activated by a devastating tragedy. It holds the promise that we can continue to make changes. That is why the Triangle fire still holds our attention. It continues to remind us that through activism injustices can be overturned. Even in the darkest times, we must believe we can join forces and create new healing possibilities. We are involved in a yearly commemoration at the site which honors the lives lost. It includes riveting speeches by labor leaders, politicians, family members, the fire commissioner, and the voices of workers involved in bettering their workplace conditions. Kalpona Akter, executive director of the Bangladesh Center for Workers Solidarity, was a speaker at our centennial commemoration. For each commemoration, flowers are placed as each victim is named and a bell rings. School children, college students, union members, and family members place the flowers. Most recently a young organizer at the Staten Island Amazon warehouse said workers there learned about the Triangle Fire and Clara Lemlich. As you can see, over a hundred years later it still resonates.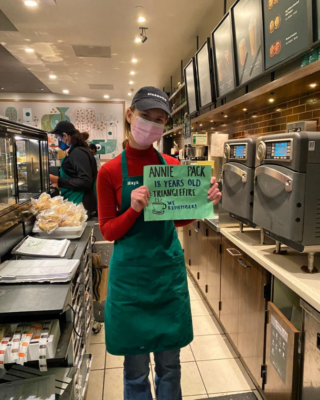 Can you talk about the Coalition's educational outreach? Why is it important for young people, in particular, to learn about the event?
Educational outreach has always been a central goal of the Remember the Triangle Fire Coalition. On our website, there are links to lesson plans and educational resources for educators and students. With the creation of the memorial, we also hope to create QR codes that will offer historical information, opportunities to participate in current events, educational opportunities, and walking tours. We know the Triangle Memorial will have the power to acquaint people with the history of the fire. It will also offer them the opportunity to get engaged in their immigrant histories; it will teach and inspire people about the progress that has been made and inform them of the work that still needs to be done. As the memorial is completed there will be more curricular activities available to schools, colleges, unions, and individuals seeking to learn and connect to the Triangle fire. In addition to several documentaries, there is also a list of relevant books on our website. Currently, we also give press interviews, and talks in educational settings, and write articles.
As a descendant of two great aunts in the fire – one who died and one who survived – I am connected with students each year who are developing entries about the fire for the National History Contest. Recently, our President Mary Anne Trasciatti and Edvige Giunta edited a book of intimate and political essays on the Triangle Shirtwaist Factory fire called "Talking to the Girls." The young ages of these female victims leave an impression on young people in an unforgettable way. At the Coalition, we see ourselves as ambassadors who provide a wide range of creative and educational opportunities that can stimulate discussion and action. Our work will no doubt increase when the memorial is unveiled, dedicated, and available to the public.   
You've mentioned before that the Remember the Triangle Fire Coalition consists of a band of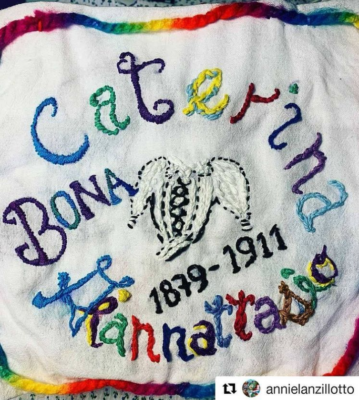 volunteers committed to sharing the story of the fire and the movements for justice and safety that have emerged all over the world. Can you dive deeper into this? Why is partnership with other organizations so important for your work?
By building a permanent memorial to the Triangle Shirtwaist Factory fire, which was one of the deadliest workplace disasters in U.S history, we will be reaching and introducing great numbers of people to this devastating tragedy. It was a tragedy that seared the nation's and the world's conscience and created a pivotal moment in U.S. labor history. The fire led to critical fire safety and labor reforms that undoubtedly have saved countless lives. As a family member, I have been made keenly aware of how this story resonates across all boundaries and draws people together. I have seen how it inspires and connects people and raises the awareness of what is possible when we stand together; we broaden our vision of what needs to be done to better the lives of underserved workers struggling for fair wages, benefits, and safe working conditions. The memorial and the history of the Triangle fire have become an enduring model for what is possible. It is and will be more so when the memorial is completed and there is a tangible place for collective memory and collective action to rise. People in Bangladesh, for example, and other workplace disaster sites have connected to us for support and inspiration. In turn, our work is always inspired by their courage and activism.