Solidarity Statement on International Memorial
November 17, 2021; Updated on November 25, 2021 and December 21, 2021
The International Coalition of Sites of Conscience stands in strong solidarity with its member, International Memorial – Международный Мемориал, against Russian authorities who issued a lawsuit against the site last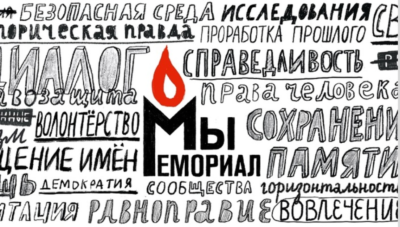 week alleging systematic violations of the so-called "foreign agents act."
As the oldest and most eminent civil society organization in Russia, International Memorial is the leading voice for human rights in the country – preserving and sharing the stories of victims of Soviet repression, and amplifying the voices of those advocating for free expression in the country today. This lawsuit is nothing but a fraudulent and unjust attempt to shut this beacon of freedom and hope down – and it follows the 2014 unlawful shuttering of Perm-36, another Site of Conscience that shared the history of political repression in the country. As a global community, we cannot allow this historic erasure and these blatant assaults on freedom to happen.
The court hearing is postponed for December 14th, and we invite you to watch the recording of a press conference facilitated by International Memorial on Thursday, November 18 at https://youtu.be/SYi0oi-AhKA, for more information on how you can offer support. Follow our social media closely for further updates.
#MeMemorial
Update: The court hearings are postponed to December 28, 2021.