Casa do Povo is a place like no other in Brazil. Established in 1953, the cultural center was founded as a living monument in memory of the millions murdered in Nazi concentration camps during the Second World War. In honor of International Day of Commemoration in Memory of the Victims of the Holocaust on January 27, 2016, the Coalition spoke with Benjamin Seroussi, one of the directors of Casa do Povo, about how this special center transcends time and place to imagine a better future for us all.
Place is central to Casa do Povo and yet the center is located in São Paulo, thousands of miles away from Europe, where the Holocaust took place. What was the story behind the monument's founding here? Why was it important to have a place here in addition to the memorials in Europe?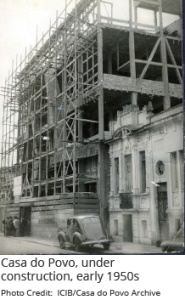 Casa do Povo (People's House) was built on the ruins of the Second World War.
It was a late answer to a call launched in Paris in 1937 by the Jewish section of the antifascist front that urged secular Jewish communities all over the world to open schools, theaters, libraries, newspapers and cultural centers that would foster the same Yiddish culture that was being destroyed by Nazi terror. This call became more dramatic in late January 1945 when the concentration camps were revealed to the world.
The cornerstone ceremony of Casa do Povo took place in the aftermath of the war. In 1946, hundreds of people, many of whom had lost relatives in the war, gathered under a huge sign that said, in both Yiddish and Hebrew: "Remember! Remember the 6,000,000 Jews who died." This seminal gesture established Casa do Povo as a Site of Conscience dedicated to the memory of those who were brutally killed in the Nazi camps.
Today Casa do Povo remains the most important monument to this crime against humanity on Brazilian soil.
How do you see your arts and culture programming connecting the public with the memory of World War II and the Holocaust?
The specificity of Casa do Povo is that it was conceived as a living monument, a place where remembering means acting. When the building was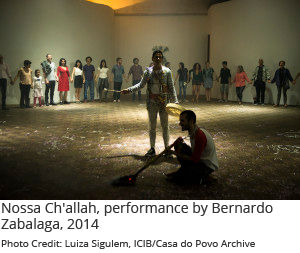 eventually inaugurated, in 1953, many existing initiatives moved to Casa do Povo – a school, a Yiddish choir, Brechtian theater groups, among others. All these initiatives shared a common concern around political and social issues and tried to push the line in whatever field of knowledge they were involved. Thanks to its programming, Casa do Povo kept alive both progressive Yiddish inheritances and a tradition of cultural audacity that looked beyond Jewish references.
The traumatic story that lies at the core of the institution is not written on the building's walls but it is everywhere in the air that one breathes at Casa do Povo. As a living monument – always acute to its time – the modern five-story building designed by Brazilian architects Ernest Mange and Jorge Wilhelm, was regularly adapted to new uses and accumulated, over time, many different layers. It is today a living monument not only to those who died in the concentration camps, but also to performing art vanguards, to education vanguards and to those political activists who resisted Brazilian dictatorships. The school, for example, functioned as a shelter to many sons and daughters of people persecuted by political police in Brazil.
At Casa do Povo, remembering is a daily task that triggers the imagination to design other possible futures. We hope that our programming – sometimes in more literal ways and sometimes in more subtle ways – makes the institution's history relevant to current times.
Can you tell us more about what it is like to be both the voice of a progressive, secular Jewish community while also being a monument to the victims of World War II?
This double bind situation is in fact a very rich and dynamic situation. In the 1940s, most of the Jewish community in Brazil was progressive and secular. Things started to shift on an international level because of the Cold War in the 1950s and, on a local level, because of the Brazilian dictatorship in the 1960s. The Jewish community – like the rest of the world and the rest of the country – started to divide itself on many issues. Today Casa do Povo represents a voice that seems a minority but that might be a silent majority within the Jewish community at the same time that it is a fundamental testimony to another historical narrative within the Jewish community, in dialogue with Brazilian society at large.
You have characterized yourself as "a space for experimentation in constant dialogue with its surroundings." Can you say a bit more about that? What role does experimentation have in conjuring up or representing memories?
Those who created Casa do Povo thought of themselves as part of a political vanguard. Therefore, all they did had do with that – cultural, educational or social. Today one would rather talk about cultural experimentation (instead of cultural vanguard), but the history of the institution compels us to be daring. This is why Casa do Povo continues to host innovative practices.
Simultaneously, a lot of our work tries also to invent new ways of remembering. We strongly believe that the future can only be built when looking the past – in all its versions – in the eyes. This is especially true in Brazil where there are very few initiatives that critically deal with the history of the country. Casa do Povo can be seen as a monument dedicated to minor narratives. It was built by people who insisted on defending other versions of our past. In that sense it is a kind of anti-monument that constantly brings history down to the ground.
How to keep this monument alive? How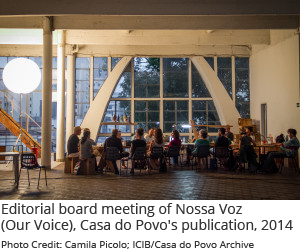 to tell the institution's many stories while keeping up with current times? How to pass over to the new communities that live in the neighborhood today the very specific inheritances Casa do Povo conjures up? How to turn that past into something of the present? These are challenging questions that ask for experimentation and dialogue with the artistic community and with our surroundings in order to invent together new ways to use our history and keep our memory open and flexible to current urgencies.
Our time is a time of great transformation and memory is a fundamental and delicate tool to build our future today.
Born in Paris, France, Benjamin Seroussi now lives in São Paulo, Brazil and works as a curator, editor and cultural manager. He is currently one of the directors of Casa do Povo and also curator at Vila Itororó. Both projects consist in developing cultural institutions based on collective management techniques, in a close dialogue with their respective surroundings and with wider urban issues, aiming to reach local and international relevance. Seroussi holds a Masters in Sociology (Ecole Normale Supérieure and Ecole de Hautes Etudes en Sciences Sociales) and a Masters in Cultural Management (Sciences-Po). He was deputy director at Centro da Cultura Judaica [Jewish Cultural Center], São Paulo, from 2009 to 2012; associate curator on the 31st São Paulo Bienal How To (…) Things That Don't Exist, in 2014; and lectures regularly on curating and cultural management.