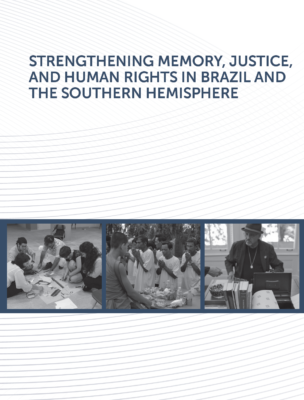 As the role of memorialization gains support in the fields of transitional justice and human rights, there is an urgency to provide specific tools and strategies that can help memory initiatives around the world to develop projects that contribute to remembering the past and working toward a goal of "never again."
This publication is such a tool. It provides memory initiatives, civil society organizations, and scholars and experts in museology, human rights, and transitional justice around the world with practical examples of and tools to use Sites of Conscience methodology.
The publication opens with an overview of the role of memorialization in transitional justice and human rights as a framework for readers. The focus of the publication is nine case studies from a variety of contexts around the world: Argentina, Bangladesh, Brazil, Cambodia, Chile, El Salvador, Serbia, Sierra Leone, and the United States. Each case study highlights specific methodologies, tools and tactics that have been used in that specific context toward the broad goal of promoting human rights. Within this diversity of methodologies and regions, the publication also includes a section focused on Latin America – specifically on initiatives undertaken in Argentina, Brazil, Chile, and El Salvador.
You can access the publication by clicking here.