[vc_row][vc_column][vc_column_text]
Food for Thought: A Celebration of International Migrants Day

Today, the Migration Museums Network joins thousands of other organizations around the world in recognizing and celebrating International Migrants Day and its theme of building social cohesion. The United Nations estimates that the number of global migrants has grown to over 272 million this past year.  
The Migration Museums Network is coordinating a day-long series of virtual activities related to the intersections of food and migration. As seen across history, the lack of access to food or the desire for safety and economic opportunity can impact migration waves. Once they arrive in their new home countries, migrants often rely on food not just for sustenance and financial income, but also to build connections to new friends and neighbors as well as to stay connected to the countries and cultures they left behind. Cooking and sharing meals together can help build a sense of belonging, connectedness, and community among different groups. 
As the COVID-19 pandemic continues to force families and communities into uncertain and often isolated conditions, the Migration Museums Network encourages everyone to join together in building greater awareness, understanding, empathy, and collaboration to improve the social, economic, and health conditions for migrants, the countries they emigrate from, and the countries they immigrate to.
While the members of the network represent vastly diverse groups, cultures, and heritages, we embrace our joint responsibility to strengthen and care for each other as global citizens. 
To learn about the different activities our participating organizations are hosting in recognition of World Migration Day see below and follow the hashtag #MigrationMuseums. [/vc_column_text][vc_empty_space height="20px"][/vc_column][/vc_row][vc_row][vc_column][vc_tta_tour][vc_tta_section title="Ongoing Activities" tab_id="1607445995554-d304a571-f7cb"][vc_column_text]
December 8th – 18th

Traditional Food Recipes
Join the Plantation Tea Workers Museum in Sri Lanka as they present recipes from traditional dishes shared by migrants from around the world.
Learn more and submit your recipe via Facebook.
---
Tastes of Home
This virtual exhibition offers a chance to explore Angel Island's history as a former US Immigration Station as well as to develop a deeper appreciation for the culinary, cultural, and economic contributions of immigrants from then and now.
Free to view at https://www.aiisf.org/tastesofhome
Presented by Angel Island Immigration Station Foundation, USA
---
Food Recipes and Migration Experiences
To celebrate International Migrants Day, Pier 21 will be sharing stories on first experiences with Canadian food from those who immigrated through Halifax, Nova Scotia.
Follow their stories via Facebook, Twitter and Instagram
Presented by the Canadian Museum of Immigration at Pier 21, Halifax, Nova Scotia, Canada.
---
Food culture and memory.
Follow a series of social media posts about collection objects and their food stories that connect to migrants living in Australia.
Presented by: Migration Museum, Adelaide, Australia, via Instagram and Facebook
---
Chef Roy Choi and the Street Food Remix 
Meet June Jo Lee, who teamed up with Jacqueline Briggs Martin and graffiti artist Man One to bring you the story of food hero Chef Roy Choi, whose gourmet food truck sparked a new trend nation-wide in the U.S. Choi's Kogi Korean BBQ Taco Truck mixes dishes from his own Korean American background with flavors of his neighborhood to celebrate a remix of a new American cuisine. Thank you to Readers to Eaters Books for permission to share this unique and lively story.   
Find these food stories and more at the Wing Luke Museum Digital Tateuchi Story Theatre: https://digitalwingluke.org/programs.
---
How to Make Kimchi 
Learn how to make kimchi, a delicious traditional Korean pickled side dish, with June Jo Lee, one of the authors of the book Chef Roy Choi and the Street Food Remix. (Made for Skokie (IL) Public Library and posted with permission from Readers to Eaters Books).  
Find these food stories and more at the Wing Luke Museum Digital Tateuchi Story Theatre: https://digitalwingluke.org/programs.  
Presented by The Wing Luke Museum, USA
---
Bread-Making Traditions
Learn about bread-making traditions in Arab/Arab American communities through a series of illustrations from the Arab American National Museum's collection.
Presented by the Arab American National Museum, USA, via Facebook and Instagram.
---
Connecting Food and Culture
Follow a series of social media posts connecting food culture of New York's immigrant communities. Stories will be extracted from the Tenement Museum's digital exhibit, Immigrants Mean Business.
Presented by the Tenement Museum, USA, via Instagram.
---
Restaurant Menus from Seattle's Chinatown-International District 
"My wife did come down and help at lunch. Cashier. And I remember the two youngest ones, she get them out of kindergarten and bring them down here and let them sit in the front foyer, while my wife doing the work. So it's very hard for the family. But after lunch, she goes home, takes care of the family and children home from school and cook dinner. And I go back every day for dinner with the family." Tek Wong tells a familiar tale for any migrant family setting down roots with the restaurant as the iconic family business. Kids coming over to the restaurant after school. Moms and dads dividing the family labor, supporting each other and enduring a relatively difficult lifestyle.  
But for the patron sitting down for a meal, the look and smell, the decor, the sound of the waitresses, the smile of recognition from the owner standing beside the cash register, the hardships of family restaurant life are completely obscured. What they remember is the joy of being served delicious foods, both familiar and unexpected. There are always the pioneers – the families and individuals who sorted through a landscape of laws and regulations, racial tensions and naysayers to create time-tested, time-trusted institutions.  
The familiarity of Asian Pacific American foods to the mainstream Northwest palette can't be denied. Check out these menus from our Collection: http://collections.wingluke.org/exhibits/show/restaurant-menu-collection 
– What would you order? 
– Which dishes seem more Asian? Which more American? Which do you prefer? 
– Which dishes have you eaten? Which are your favorites? 
– What surprises you most about these menus? 
– What are your favorite restaurants owned and operated by migrant families? What dishes are your favorites from them?
From the 2011 exhibition, From Fields to Family, with text by Rahul Gupta.  
Presented by The Wing Luke Museum, USA[/vc_column_text][/vc_tta_section][vc_tta_section title="December 16th Webinar" tab_id="1607445384948-1b173ca4-2d74″][vc_column_text]
December 16th
Rethinking Migration Exhibitions Around the Globe
"Community, solidarity, dignity and humanity are, for migrants and refugees, more than abstract notions; they are values that represent the promise of a more desirable future – a future that we have a duty to offer them." —Audrey Azoulay, Director-General of UNESCO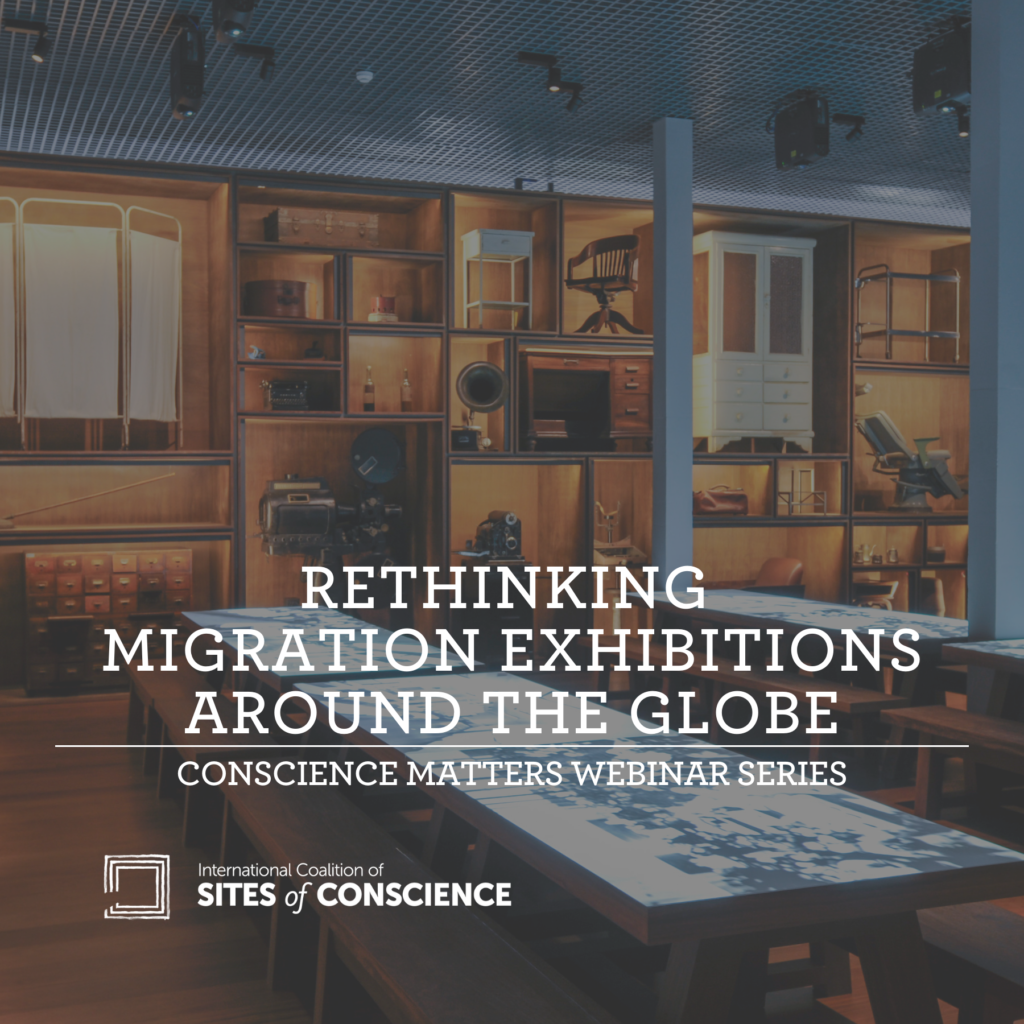 For decades, museums of all types and sizes have created exhibitions about migration and immigration. In this webinar, representatives from Migration Museums in Australia, Italy, France, and the United States will discuss the process of rethinking permanent exhibitions to more fully reflect current issues around migration. They will share what the need for re-thinking, the goals for new exhibitions, and the processes, including community engagement, undertaken to develop new exhibitions that, as Director General says, represent opportunities for community, solidarity, dignity, and humanity for all a nation's people. As a participant, you'll gain new skills in addressing this issue.
Check out the session here.
Download the webinar slideshow here.[/vc_column_text][/vc_tta_section][vc_tta_section title="December 17th Discussion" tab_id="1607445384935-3fda25db-9708″][vc_column_text]
December 17th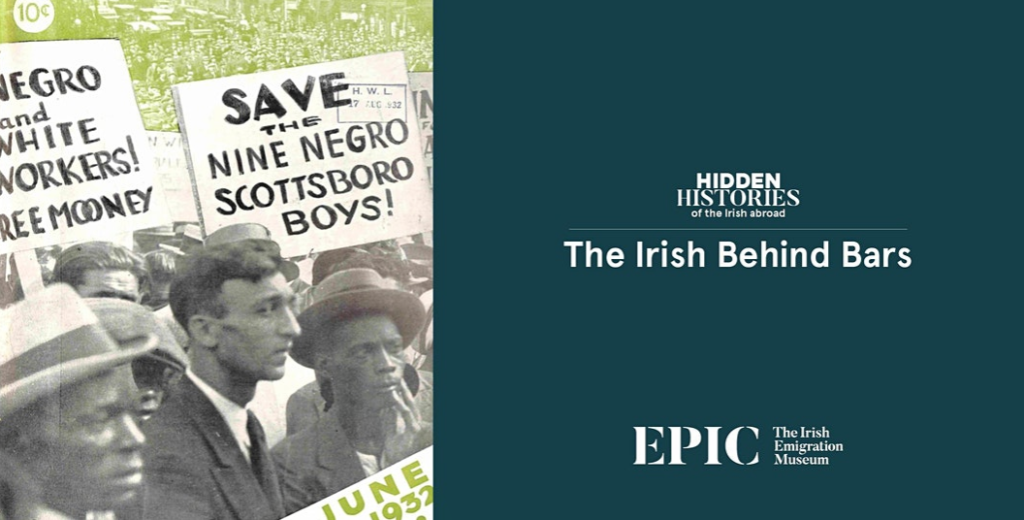 Hidden Histories of the Irish Abroad: The Irish Behind Bars
Moving beyond the standard tale of Brendan Behan's "Borstal Boy", this lecture discusses lesser-known stories of imprisoned Irish emigrants.
Time: 6.30 pm – 7.30 pm GMT
Presented by EPIC The Irish Emigration Museum
To register click here.[/vc_column_text][/vc_tta_section][vc_tta_section title="December 18th Memories and Recipes" tab_id="1607446270853-6312bd8c-7777″][vc_column_text]
December 18th – International Migrants Day

Share a Meal and the Stories Behind Them
Stories from people who have migrated to Australia and their connections to food and memories from home. Stories will come from the Immigration Museum's collection and partner Free to Feed, a social enterprise empowering people seeking asylum and refugees to overcome barriers to social and economic inclusion through the creation of shared food experiences.
Presented by  Immigration Museum, Melbourne Australia, via their website, Facebook, Instagram and Twitter. 
Migration Stories via Collections, Projects, and Films
Valorization of 8 objects and testimonials from the Museum's society collection
Presentation of the "Grandmas Project" initiative and selection of a film among the 13 existing ones.
Presented by the Musée National de l'histoire de l'immigration, France, via Facebook and Twitter.
Food Memories and Recipes
Join us for lunch with Ragù sauce (12 pm CET)
An aperitif: wine, winemaking, and Italian migrant workers in the vineyards. (7:30 pm CET)
Follow the recipes vias Instagram and Facebook
Presented by the Galata Museo del Mare – Mu.MA – Istituzione Musei del Mare e delle Migrazioni
Migration Food Stories
Food is central to so much of what we do. To mark International Migrants Day, the Migration Museum in London, UK, will be sharing a selection of migration food stories across Twitter, Facebook and Instagram accounts during the course of the day.
Presented by the Migration Museum, London, UK[/vc_column_text][/vc_tta_section][vc_tta_section title="Future Activities" tab_id="1607447981029-3e43be01-f543″][vc_column_text]
Future Activities

Dinner Date with History
Join in a Dinner Date with History, an evening of food and history as we learn from the experts, the chefs behind our favorite Chinatown-International District and Seattle food scene. Tours are approximately two hours and on Zoom.
For future Dinner Dates, click here.
Presented by The Wing Luke Museum, USA.[/vc_column_text][/vc_tta_section][/vc_tta_tour][vc_empty_space height="20px"][vc_column_text]
Food Stories
[/vc_column_text][/vc_column][/vc_row]