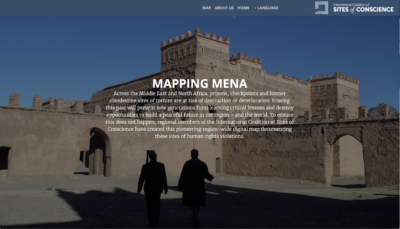 Across the Middle East and North Africa (MENA), prisons, checkpoints and former clandestine sites of torture are at risk of destruction or deterioration. In response, Coalition members in the region are finding innovative ways to document and publicize the location of these sites.
The Digital Mapping and Documentation in MENA project brings together Sites of Conscience from seven countries to create a pioneering digital map identifying sites of human rights violations in the region. The International Coalition of Sites of Conscience is training the project partners to use this accessible technology to 1) compile data on critical sites; 2) pinpoint their geographic location; and 3) easily store, update and control access to this information. Representatives from the Latin American Sites of Conscience Network, who have worked on similar maps in their region, are serving as mentors for the project, offering their expertise and first-hand experience.
In August 2017, a pilot map was completed and made available here. The second stage of the project started in 2018 and will continue through 2020. The Coalition and its MENA partners will add sites to the map, incorporate oral testimonies, and develop the map content in pursuit of transparency and accountability. Given that access to physical sites in the region is so limited, the digital map aims to document sites where human rights violations occurred and create tools for historical education and peace-building. Designed as a model for pan-regional replication, the project has also yielded a toolkit that illustrates the digital mapping process for Coalition members worldwide.
This project is made possible by funding from the Robert Bosch Stiftung.