Upcoming Activities
Rethinking the Landscape: Haudenosaunee Women
How can museums, historical societies and local communities deepen and richen their understanding of Haudenosaunee culture and develop tools for revisioning exhibitions, programs and public spaces? There are two opportunities to join Dr. Jolene K. Rickard, Julia Watson, Michelle Schenandoah, Dr. Sally Roesch Wagner, and Linda Norris in discussing and addressing this question. On December 12, these activists, artists, and scholars will have an evening panel discussion that is free and open to all. On December 13, individuals can register for an all-day workshop to learn different perspectives to rethink landscapes and museums. Participants will learn how museums can connect the past to the present, and catalyze historical and personal memory to engage community members in today's public spaces and social issues. Both events will be hosted at Seneca Art & Culture Center at Ganondagan, 7000 County Road 41 (Boughton Hill Road), Victor, NY 14564.
Register here
for the workshop on December 13, at 10:00 AM. Lunch is included in the workshop.
State of the Coalition and Open House Webinar
As 2019 rapidly comes to a close, we are excited to announce our final Conscience Matters webinar. Elizabeth Silkes, the Coalition's Executive Director, will share key projects over the past year and discuss some of the Coalition's upcoming work in 2020. She will then be joined by Linda Norris, Global Programs Director and Sarah Pharaon, Senior Director of Methodology and Practice. They will facilitate an open discussion with members.
This webinar offers members an opportunity to hear about the latest developments at the Coalition, including regional program updates, special projects, and our training and consulting offerings. It will also give you a chance to share your own questions and comments about our shared work, and connect with fellow Coalition members.
The webinar will be held on December 18 at 10:00 am EST-NY. To register, click here. More information about Conscience Matters webinars and a list of upcoming sessions in 2020 will be available soon.
---
Recent Activities
Evaluating Programs for the Greatest Impact
November 21, 2019 – 10:00 AM (NY-EST)
Effective evaluation systems are crucial to an organization's mission and sustainability. In this session, Linda Norris, Global Programs Director facilitated a discussion with  Gegê Leme Joseph, the Regional Program Manager for Latin America, the Caribbean, and Africa, and Sarah Jencks from Coalition Member, Ford's Theatre to showcase a variety of program evaluation methods employed by Coalition members. This webinar focused on creating relevant and impactful cultural and memorialization programs.
European Sites of Conscience Regional Meeting
October 15-18, 2019 in Marcinelle, Belgium at Le Bois du Cazier
The 2019 European Sites of Conscience Regional Meeting focused on the role Sites of Conscience can play in supporting children's rights. Coalition members at this meeting, hosted by Le Bois Du Cazier, shared and collaborated on educational activities and tools to engage children in civic engagement and social action. 
Latin American and the Caribbean Sites of Conscience Regional Meeting
October 22-24, 2019 in São Paulo, Brazil
The 2019 Latin American and the Caribbean Sites of Conscience Regional Meeting met in São Paulo, Brazil from October 22-24, 2019. At the meeting, members were finalizing their report for the Inter-American Human Rights Commission (IAHRC) on the maintenance and protection of places, memorials, archives, museums and spaces of memory in the region. The document proposes recommendations for future truth commissions in Latin America and beyond.
How Sites of Conscience Are Responding to Increasingly Partisan and Repressive Administrations
September 19, 2019 – 11:00 AM (São Paulo)/ 10:00 AM (NY-EST)
Sites of Conscience interpret history, stimulate dialogue on pressing social issues, and promote justice and universal cultures of human rights. What happens when these objectives are threatened by partisan political agendas or repressive local or national administrations? As extremist rhetoric and policies take hold around the world, Coalition members are increasingly expressing concerns about censorship, politically motivated revisionism, funding cuts, and personal and institutional safety.
This Conscience Matters webinar on September 19th at 11:00 am (São Paulo)/10:00 am (New York)/5:00pm (Moscow), led by Gegê Leme Joseph, Regional Program Manager for Africa, Latin America and the Caribbean,  explored these challenges and identified potential solutions. The following three members presented their experiences during the webinar: Memoria Abierta from Argentina, Memorial da Resistência from Brazil and Memorial International from Russia.
Asian Sites of Conscience Regional Meeting
September 10-14, 2019 in Dharamsala, India at the Tibet Museum
The 2019 Asian Sites of Conscience Regional Meeting created a space where representatives from museums, historic sites, and memory initiatives from the region identified, shared and exchanged lessons learned and best practices in confronting a colonial heritage and its contemporary forms of inter-ethnic and racial division and violence. Participants experienced firsthand the brand new Tibet Museum and its efforts to preserve its history and culture. The group participated in capacity building sessions, working groups and plenary sessions structured to support the development of regional partnerships and collaboration.
Annual Meeting – American Association of State and Local History
August 27-31, 2019 in Philadelphia, PA
The International Coalition of Sites of Conscience co-hosted the Annual Meeting of the American Association of State and Local History (AASLH) in Philadelphia, Pennsylvania from August 28-31, 2019. On August 27th, there was a North American Regional Meeting of Sites of Conscience members. This year's conference – entitled "What Are We Waiting For?" – explored how, in this time of political, social and cultural turmoil, history institutions can better connect with their communities and audiences. While debates over issues like racial violence, immigration, global climate change, mass incarceration and others divide our communities, many cultural institutions have been reluctant to enter the fray. Some are aware that there are no quick solutions and that real connections take time. Others are afraid to weigh in on politically divisive issues or simply uncertain how, when, or if to make "the jump." The conference explored this current climate and offered concrete examples of how the history community can become more relevant and action-based by providing context and programming to help their visitors make sense of modern challenges.
Engaging Exhibit Labels (Members Only)
July 18, 2019 – 10:00am (EST-NY)
Exhibit labels have the power to move visitors, guide them to build empathy, and inspire them to take action. This webinar introduced several practical exercises to help staff at Sites of Conscience craft powerful labels for their exhibitions. Participants also shared labels during the webinar and received feedback from other members. For more information, email Linda Norris at 
lnorris@sitesofconscience.org
.
---
Open House at the Coalition (Members Only)
June 20, 2019
In the past year alone, dozens of new Sites of Conscience have joined the Coalition from all parts of the globe. With each new member, our extraordinary network grows deeper and stronger. In this session, members heard from Coalition staff about exciting developments, discovered new Coalition resources and learned more about our methodology. Sessions offered in English and Spanish.
---
Women in War: Stopping Sexual Violence In Conflict
May 29, 2019 at 11:30 AM (EST-NY)
Adopted in April 2019, the UN Resolution 2467 calls for a survivor-centered approach to the prevention of violence against women in conflict, and emboldens efforts to strengthen justice and accountability around the issue. What does a viable action plan to stop violence against women in conflict areas look like?
This webinar, hosted by the International Coalition of Sites of Conscience in partnership with the Global Action Against Mass Atrocity Crimes (GAAMAC) discussed strategies and steps that need to be taken to ensure perpetrators are held accountable and survivors' needs are met through a holistic range of support. The webinar can be accessed here.
---
African Youth Transitional Justice Academy
May and July 2019
Kigali, Rwanda
Partners from the Global Initiative for Justice, Truth, and Reconciliation brought together African youth activists and civil society members from countries that are currently experiencing conflict or violence with activists and civil society members from countries that have undergone transitional justice processes to participate in the Academy. Ten participants from across the continent attended two trainings in Kigali, Rwanda, where they received training in documentation, memorialization, dialogue and media advocacy.
---
Collecting The Now (Members Only)
May 16, 2019 – 10:00 am (EST-NY)
Sites of Conscience are perfectly positioned to document, collect and share events as they unfold – all crucial activities in a world where repression and civil and human rights abuses are on the rise. Whether focusing on preserving artifacts for museum exhibitions or collecting and sharing personal narratives, museums and other cultural institutions must grapple with a range of complicated questions along the way, among them: How do organizations decide what to preserve? How do they leverage collections so they can bridge differences in their communities? And how do they build and offer access to collections in settings where security is a concern?
This Conscience Matters webinar offered solutions to these and other questions by examining different types of contemporary collecting around civil rights, community-based activism and truth and reconciliation efforts. Facilitated by Linda Norris, the Coalition's Global Programs Director, the session welcomed Gwen Moore, a historian from the Missouri History Museum, who helps oversee the Ferguson Collecting Initiative, which collects artifacts related to the officer-involved shooting of Michael Brown, an African American teenager, whose death in 2014 catalyzed the Black Lives Matter movement. Sharon Smith, also from the Missouri History Museum, shared her experiences as Curator of the museum's LGBTQI collection. Additionally, Amina Krvavac, the Director of the War Childhood Museum, discussed her work collecting personal belongings and stories from individuals whose childhoods were affected by war. As always, we encouraged dialogue and discussion among presenters and attendees in the webinar.
---
The Dynamics of Dialogue (Members Only)
April 18, 2019
Contentious topics are nothing new to Sites of Conscience, but learning how to engage visitors and other audiences in meaningful conversations about them can be difficult. In this session, the Coalition's Methodology and Practice team equipped members with the tools they need to navigate divisive histories – challenging visitors' preconceptions, fostering dialogue and sparking civic action that enables the past to activate the future.
---
Transitional Justice Exchange in 
Johannesburg, South Africa 
 February 25- March 1
The Global Initiative for Truth, Justice, and Reconciliation hosted an exchange program in Johannesburg, South Africa for 12 Guinean Civil Society Organization and victims' association representatives. The exchange offered participants an opportunity to discuss regional approaches to transitional justice, as well as common challenges across contexts, with activists in South Africa as well as with members of ICSC's African Sites of Conscience Network.
---
Women of Conscience: From Trauma to Transformation
Thursday, March 14, 2019 at 8:00am (NY-EST)
What is the path from incarceration to activism? This webinar explored the story of the path from individual trauma to reconciliation, healing and advocacy. Members in multiple regions shared their successes and challenges in creating platforms for women's stories of incarceration. Participants also learned useful strategies for advocacy and the ways in which the power of place – and the power of women – can build stronger, more resilient communities.
To see the monthly schedule for Conscience Matters, click here.
---
Wikipedia 101
Thursday and Friday, February 14 and 15, 2019
Over one billion unique devices connect to Wikimedia projects every month. For cultural organizations, Wikipedia – which is entirely free and highly accessible – is a particularly powerful resource. In February, we welcomed Luisina Ferrante, Coordinator of the Human Rights Wiki Project in Argentina, to speak about the movement for free knowledge and offer fresh strategies for how Sites of Conscience can create the most engaging entries and maximize their exposure on the site. Sessions were offered in English and Spanish.
---
LGBTQI+ Issues in International Spaces of History and Memory
Thursday, January 17, 2019, at 11:00 AM EST
In this webinar, we discussed LGBTQI+ advocacy with 2 Coalition members, the One Pulse Foundation (USA) and the Memorial Museum of Dominican Resistance (Dominican Republic). The needs and possibilities for LGBTI+ advocacy are different around the world. These 2 institutions explored questions like: How do spaces become LGBT+ memory sites and what do they aim to highlight? How can we make LGBTI+ related issues more visible? Why do we need these spaces?  How can we make LGBTI+ issues more relevant and visible in the context of memorials?
Members can access the recording of the webinar through the Resource Center.
---
Regional Networks Meetings Fall 2018
To support and inspire broad civic action on local human rights issues, the Coalition has developed Regional Networks. By engaging with these dynamic networks, members can coordinate and elevate their individual efforts to remember common histories and address their legacies today. Regional Networks build the capacity of emerging initiatives in each region and strengthen the collective memory of past struggles for human rights. To facilitate this, the Networks meet regularly to explore opportunities for cross-regional exchange and collaboration, providing members with the unique experience of sharing methodologies and best practices across regions. Below are recent meeting dates; 2019 meeting dates are forthcoming. For more information on Networks and how to join meetings, please contact Linda Norris.
The Latin American and Caribbean Network met in Colombia from October 2-4, 2018 to develop a communications and advocacy campaign around enforced disappearances.
The Middle East and North Africa Network convened in Beirut, Lebanon from October 22-24, 2018 to continue work on digital mapping and to explore the development of more physical Sites of Conscience in the region.
The European Network met in Monte Sole, Italy from November 13-16, 2018 to examine the notion of individual responsibility, particularly as European nations continue to struggle with issues such as migration, xenophobia, and a rise in nationalistic sentiments.
---
Memorialization and the Marginalized in Asia:
A Two-Part Webinar Series from Sri Lanka and Nepal
Hosted by the Asia Regional Network, Open to all Coalition members
The main objective of the webinars was to share memorialization experiences between victims/marginalized
communities in Sri Lanka and Nepal. Each webinar provided a space for participants to share their experiences participating in Body Mapping workshops (Sri Lanka) and Embroidery workshops (Nepal).
Friday, September 21st at 5pm

 in Sri Lanka / 5:15pm in Kathmandu / 7:30am in New York
Tuesday, September 25th at 5pm in Sri Lanka / 5:15pm in Kathmandu time / 7:30am in New York
Please RSVP by September 20, 2018 by emailing: coalition@sitesofconscience.org.
---
Making Oral History Matter
Part of Conscience Conversations, the Coalition's Online Dialogue Series
July 31, 2018 – 6:00am-7:00am (EST-NY)
With a focus on oral history, in this Conscience Conversation we spoke with members who have worked on peace building in hostile settings, including Mitzi Austero of Nonviolence International Southeast Asia. Will Walker from Cooperstown Graduate Program also provided an overview of best practices regarding oral histories in a broad range of settings.
---
Conversations on the Border:
Engaging Communities on Immigration and Other Contentious Issues
Part of Conscience Conversations, the Coalition's Online Dialogue Series
May 15, 2018
Looking for new ways to engage visitors on contentious issues? This Conscience Conversation brought together Angelina Martinez, a Phd candidate from the University of Texas at El Paso's Borderlands Public History Lab, and Lorena Andrade, Director of La Mujer Obrera, to discuss how they are utilizing the past to address contemporary issues surrounding immigration and education equity in their community.
Borderlands is a participating member in From Brown v. Board to Ferguson, the Coalition's three year initiative designed to foster dialogue on incarceration, education and civil rights. With ten other members, the site recently contributed to the first of two program toolkits on innovative ways to facilitate dialogues about divisive issues within communities. Their specific model was derived from traditional indigenous cultural practices in the Americas, and focused on issues raised among borderland people and communities. You can access the entire toolkit, which focuses on dialogue models, here.
The conversation focused on the challenges and successes of developing these models; offered advice on how Sites of Conscience can best cultivate dynamic partnerships with community organizations and youth activists; and provided an opportunity to share work on how issues of immigration and activism function on the border.
---
Asia Regional Network Meeting
April 23-25, 2018
Phnom Penh, Cambodia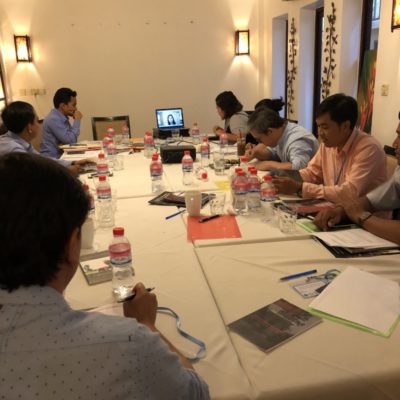 Sites of Conscience from across Asia – including members in Cambodia, Sri Lanka, Afghanistan, the Philippines, Nepal and India – met in Phnom Penh to learn new skills to engage marginalized communities that were victims of past struggles for justice so they can participate in memory processes and incorporate their narratives into official accounts.
In addition, participants visited Kraing Ta Chan, a former "security center" under the Khmer Rouge that was used to jail, torture and execute perceived enemies of the regime. Today, Kraing Ta Chan (KTCSC) is a Site of Conscience, a place where survivors can tell their stories and others, particularly children, can learn from them. Members also visited Tuol Sleng Genocide Museum, a former high school used as a torture and detention center by the Khmer Rouge. An estimated 17,000 people were imprisoned there; of them, there are only 12 known survivors.
---
Global Reparations Summit
March 25-26, 2018
Serbia, Belgrade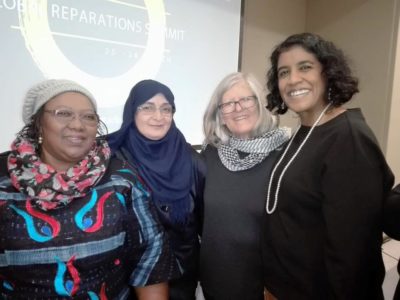 Organized by the Coalition's Global Initiative for Justice, Truth and Reconciliation, the Global Reparations Summit brought together approximately 80 victims' associations, human rights activists, experts in transitional justice and other relevant stakeholders from 35 countries around the world. Summit participants highlighted key and common challenges in the development and implementation of reparation programs as well as identified widely-applicable solutions and ways forward at the national and international levels.
---
International Educator's Workshop
Global Initiative for Justice, Truth and Reconciliation
January 15-18, 2018
Phnom Penh, Cambodia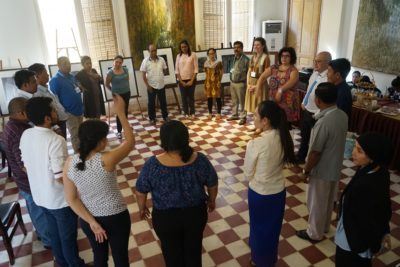 This workshop brought together educators, project partners and expert consultants from four continents to explore memorialization-based approaches in education programs about mass atrocity. The workshop's objectives were: 1) to share experiences, ideas, and practices on the teaching/learning about mass atrocities in the participants' respective countries, especially using non-traditional methodologies, such as oral history, intergenerational dialogue and art; 2) to highlight GIJTR partner DC-Cam's approaches and lessons learned in teaching genocide education in Cambodia; and 3) to refine the participants' country-specific plans of action, with focused discussions on country-specific challenges and opportunities. Participants received training in methodologies such as oral history collection and intergenerational dialogue and discussed topics related to curriculum reform and resource development.
---
Together We Respond: A Virtual Conference on Memory and Human Rights Today
December 11, 2017
Members: Free
Non-members: $25 for one session; $40 for two sessions; $60 for three sessions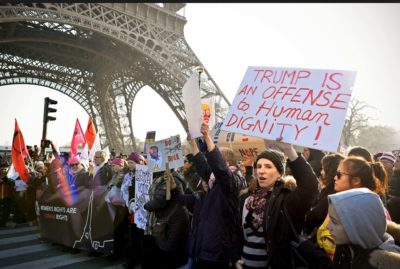 The rise in nationalist movements across the globe has grave implications for those working in human rights. Just following the first anniversary of the election of Donald Trump as President of the United States, this virtual conference provided opportunities for Coalition members and others to share thoughts about the role of Sites of Conscience in this new environment, gain insights from members in regions with extensive experience working in hostile settings, and learn the latest tools for effective visitor engagement as well as self-care strategies for individuals and workplaces.
For more information on sessions and speakers, click here.
---
Youth Engagement Summit
From Brown v. Board to Ferguson: Fostering Dialogue on Education, Incarceration and Civil Rights
November 10-12, 2017
National Civil Rights Museum
Memphis, TN, USA
Sixty-three years after Brown v. Board of Education, which ended legal segregation in public schools, education equity remains elusive. Schools often remain segregated in practice, and Black and Latino students face unequal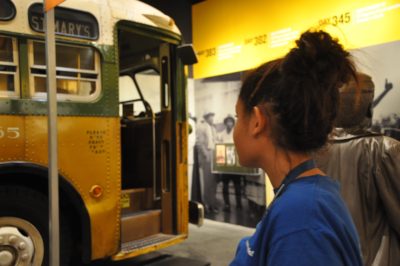 educational opportunities.
In October 2015, the International Coalition of Sites of Conscience launched a three-year initiative, From Brown v. Board to Ferguson: Fostering Dialogue on Education, Incarceration and Civil Rights, with generous support from the U.S. Institute of Museum and Library Services. Through this grant, 11 Coalition members and their community partners are creating dynamic public engagement programs focused on youth with the goal of fostering much-needed dialogue on race, education equity and incarceration in the context of civil rights history.
Additionally, the project trains and works with young people (ages 15-25) to assist them in establishing their own civic engagement programs at local museums, equipping them with current organizing strategies so that they can engage their communities beyond their dialogue sessions. To this end, the Coalition hosted a Youth Engagement Summit in November 2017 at the National Civil Rights Museum, at the site of Dr. Martin Luther King's assasination. Over two dozen young people attended the summit, receiving training and guidance from dialogue and civic engagement experts, including nationally recognized social media activist April Reign.
For more information about the event, please contact Project Manager Tramia Jackson. Follow the project at #BrownToFerguson