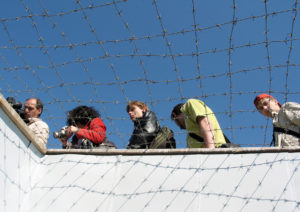 The Russian Sites of Conscience Network raises public awareness of the history and consequences of totalitarianism, and engages citizens in addressing threats to democracy today. The Network focuses on these primary objectives:
Giving voice to the lost generation: Museums in the Network exhibit and interpret works of art, literature and music of the former Soviet Union's prominent dissidents. Dialogue programs about these exhibits make further connections between past and present.
Combat repression: The Network develops and hosts exhibits on contemporary examples of political repression, including the efforts of the Russian state to erase the memory of former political prisoners from the history and social conscience of the nation.
Engage the community: All of the sites present public programs that engage local communities in ongoing discussions about Russia's history and opportunities to make change for the future.
Expand capacities within the Network: Since its launch in June 2009, the Russian Network's Summer School of Museology (SSM) – a training program for museum professionals – has been helping museums share the country's history from its civil war and Catherine the Great to Stalinism and the present. During SSM sessions, representatives from museums across Russia come together to learn about the Sites of Conscience methodology and exhibition development. SSM is also focused on expanding its reach to engage the broader Eastern European region.
 For more information, or to become involved, please contact the Global Networks Program Director.