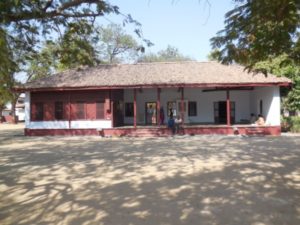 The Ashram at Sabarmati, founded by Mahatma Gandhi on his return from South Africa, was the primary planning hub for the Indian Independence Movement. Originally created in 1915, Gandhi moved it in 1917 to the banks of the Sabarmati from which it took its name. He lived in the Ashram until 1930 when he left for the Dandi March, never to return.
In 1963, the Sabarmati Ashram Preservation and Memorial Trust (SAPMT) was set up to preserve the rich legacy of the Site. Since September 2013, it has hosted the Gandhi Heritage Portal displaying rare Gandhiana, with support from the Ministry of Culture, Government of India.
It is estimated that every year a million people visit the Ashram to pay their homage to Gandhi, and view an exhibition – displayed in a building by famed Indian architect and activist Charles Correa – on his life and philosophy. The SAPMT also receives many state guests and other dignitaries.
The Sabarmati Ashram Preservation and Memorial Trust (India)
Gandhi Ashram, Near Subhash Bridge
Ahmedabad
380027
India