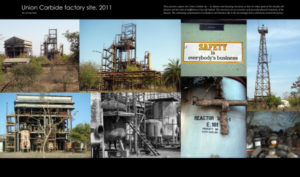 The Union Carbide factory in Bhopal, India is the site of arguably the world's worst industrial disaster. On the night of December 2, 1984, thousands died from a chemical gas leak within the factory and thousands continue to suffer from the after-effects of the gas leak and contamination.
SpaceMatters is the architect for the overall site rehabilitation and  for the development of a memorial for the Bhopal Gas Tragedy. The proposal for the memorial includes the conservation of the dilapidated factory structures, landscape strategy to address soil and water contamination, and development of spaces for remembrance and awareness. The site is powerful enough to be a resource for the local community and a symbolic as well as functional anchor for research and awareness on issues related to industrial disasters and contamination globally.
SpaceMatters has been working on various aspects of the commemoration of this tragedy. The organization and other partners recently supported an international, interdisciplinary workshop and symposium in Bhopal which brought together stakeholders, research organisations, students, and citizens to collectively explore possibilities for the rehabilitation of the factory and generate awareness.
Space Matters (India)
C- 9, 9812, Vasant Kunj
New Delhi
Delhi
110070
India