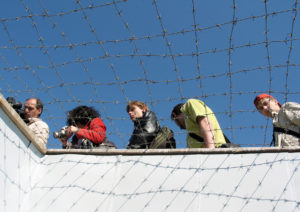 The Eastern European Regional Sites of Conscience Network raises public awareness of the history and consequences of totalitarianism, and engages citizens in addressing threats to democracy today. The Network focuses on these primary objectives:
Giving voice to the lost generation: Museums in the Network exhibit and interpret works of art, literature and music of the region's prominent dissidents. Dialogue programs about these exhibits make further connections between past and present.
Combat repression: The Network develops and hosts exhibits on contemporary examples of political repression, including the efforts in the region to erase the memory of former political prisoners from the history and social conscience of the nation.
Engage the community: All of the sites present public programs that engage local communities in ongoing discussions about the region's history and opportunities to make change for the future.
 For more information, or to become involved, please contact the Global Networks Program Director.