Working with partners Nadia's Initiative (NI), Un Ponte Per (UPP), and local stakeholder groups, the International Coalition of Sites of Conscience is currently developing plans for a museum and memorial that recognizes the atrocities committed against the Yazidi people in Iraq since 2014 and shares the larger history of the Yazidi community.
Few, if any communities, have suffered more under the Islamic State (ISIS) than the Yazidis, a religious minority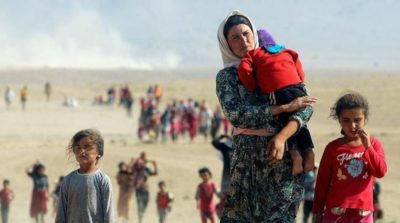 that were brutalized by the terrorist group beginning in 2014 in Sinjar, northern Iraq. In addition to the mass killing of men, women and children were sold to work or forced into sexual slavery. The United Nations formally ruled the killings, forced conversions and rape against the Yazidi people since August 3rd, 2014, a genocide. Given that the Yazidi religion and traditions are orally transmitted and there is no written sacred book, the genocide and continued violence against Yazidis threatens to destroy all the intangible culture and religious traditions of this minority group.
The need to launch a multi-phase memorialization initiative marking the Yazidi genocide arose directly from within Yazidi civil society, starting with Nobel Peace Prize Laureate Nadia Murad, a leading advocate for survivors of genocide and sexual violence. The Yazidi Memorial and Museum of Remembrance will be designed and created to meet the expressed needs of the Yazidi people, in an inclusive, survivor-driven approach. The proposed site is in Sinjar, in northern Iraq. After a planning roundtable in February 2019 and with the endorsement of the Iraqi Government, support for this initiative has expanded to international stakeholders who recognize the imperative to remember the Yazidi genocide as well as its potential to ensure that such acts are never repeated.
While focusing on the atrocities endured by all Yazidis, the project is one of several recent initiatives supported by the Coalition to highlight the experiences and stories of women during conflict – in this case, survivors of sexual slavery. In addition to funding two member projects related to the experiences of detained women in Argentina and survivors of sexual and gender based violence under the Khmer Rouge, the Coalition will be co-hosting with the Global Action Against Mass Atrocity Crimes (GAAMAC) a side event in conjunction with the United Nation's 64th Commission on the Status of Women in March 2020. "Herstories: Grassroots Atrocity Prevention and Transitional Justice Initiatives" will bring together activists, academics and women survivors of conflict to share their work in community-led transitional justice initiatives in Sri Lanka, Guinea, Colombia, and the Philippines to illuminate how peace processes can better address gendered components of conflict and prevent future atrocities.
For more information or to attend the UN event, please contact Ashley Nelson, the Coalition's Director of Communications, at anelson@sitesofconscience.org.